The cosmetics industry is worth billions of dollars. A die-hard fan base is what has elevated the industry to one of the fastest-expanding and transforming consumer markets worldwide. Custom packaging defines brand success here and keeps customers demanding more.
With a diverse customer base and dynamic buyer choices, brands are left with little choice to achieve brand recognition. New brands feel overwhelmed by the sheer sea of cosmetic types and competition levels. They need to understand the nuances of packaging and use it effectively to reach set targets with precision and comfort. Before dwelling on how to turn packaging into a competition-winning weapon, brands must realize the true nature and potential of customized boxes.
What are customized packaging boxes?
Custom boxes are packages tailored specifically for your business. It considers the nature of the products and makes them convenient and safe to ship and package.
Modern-era customization uses pro-box-making techniques that are better than the standard boxes. The boxes go through a sophisticated engineering process and get styled for maximizing the visual effects. Packaging is tailored in size, shape, content, and branding aspects that run true with the core brand identity.
Cosmetics, because of intense industry rivalry and changing customer tastes, need such customized boxes more than most consumer markets. With the wide variety of cosmetic items, the boxes can fit the required size and look better than the other options. People use cosmetic items to look a better version of themselves and the boxes resonate with this through custom features.
Overall, the boxes become imperative to determine the sales of brands. Custom box printing makes brand recognition attainable and the brand also becomes highly prominent when exhibited using enticing boxes.
How are these boxes used to allure cosmetic lovers?
As mentioned, the cosmetics industry is based on visual perception. Anything that is in sync with this notion becomes an immediate hit with cosmetic lovers. Since the packaging is the primary brand element that customers get to see and feel, customizing the packaging becomes even more worthy and relevant for cosmetic sellers.
Imagine if the brand made and sold the best cosmetic items in the market but packaged them in generic boxes, would customers notice them? Involving ordinary packages has severe repercussions in the cosmetic industry. Not only do customers snub the brand for visually appealing ones but the brand also faces a dooming business future.
Modified packaging suits every cosmetic type; be it fragile eye-shadow palettes, sensitive face primers, or perishable organic makeup, every item can be packaged in boxes carved specifically for its shape, nature, and weight. It helps to deliver the items as promised to customers and in usable condition; something that customers take for granted but is the brand-building factor!
There are so many other ways that custom packaging work wonders for cosmetic companies. A few of them comprise:
Take the lead in the market
Want to be a trend-setting cosmetic brand? Customization makes it possible.
Expert designers can take your ideal box type a few steps forward and make it a unique branding gadget. Customers get drawn to different brand images. The boxes can curb competition levels by presenting the brand in a never-seen-before avatar.
Certain cosmetics companies use this method to launch new cosmetic lines or simply to introduce the brand to new customers. Creative patterns and fonts make the boxes attractive and easier to comprehend. The latter being crucial to impart the necessary marketing info to the target customers.
Tiffany has definitely carved a special slot with its legendary blue boxes. Customers, irrespective of their nationality, age, gender, or preferences recognize the boxes because of Tiffany's creative packaging elements that include the box color, logo, and box texture.
It has undoubtedly set a precedent for other brands to learn and follow. Innovation gives brands a wow factor that takes the customers by surprise and pleasantly sticks in their memories.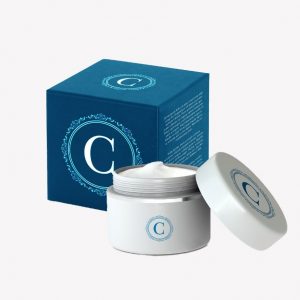 Elegant, classy, or custom brand vibe
What do cosmetic brands stand for? It could be anything that attracts their core customers.
Cosmetic customers are as diverse as the products themselves. They need to be captured using packaging to communicate their set preferences and tastes. For instance, people living in the Middle East would prefer to buy cosmetics with sunblock as compared to Icelanders who demand a tanned look, and so on. The boxes are modified to align with the customer base and the product type. Only then the buyers are truly convinced to pick the brand as their new favorite.
Cosmetic companies have the liberty of picking their desired brand vibe using customized packaging boxes. The business can appear classy, edgy, lively, quirky, or support any other custom brand look. The right box features mixed to form a distinct brand appeal that customers can vouch for henceforth. It is a golden chance for cosmetic sellers to introduce their brand as they wish and to the particular customer group.
Eligible for cost-cuttings
The reason many cosmetic brands are now switching over to custom boxes is that they spell a profitability shadow on the business.
Standard packaging may be less costly to obtain but can have adverse consequences. Customizing can be useful too:
Keeping cosmetics safe during transport. Hence, lowering refunds.
Conveying convincing brand identity. Reinstating brand logos and names displayed at stores and during shipping are much cheaper than hiring expensive marketing platforms.
Enhance prominence among rival brands and push up sales.
Reduce use of excessive box materials. Custom sizes and creative shapes save on stock paper.
Compress production waiting time and labor efforts. Custom boxes are readily delivered and are convenient to assemble.
With a wide buffet of advantages, custom packaging is the main reason behind standard boxes going out of fashion in the cosmetics industry.
Conclusion
Relying on customized boxes to package expensive and sensitive cosmetic items certainly reaps great advantages. The boxes use branding in new ways while securing the contents so customers feel encouraged to keep shopping from the brand and be loyal to it.