Botox is a great procedure for getting rid of wrinkles, frown lines, and crows feet. Getting Botox for the face is a very quick procedure. A physician will use a very small needle to inject the Botox either between the eyes, on the forehead or in the corners of the eyes. The is very gentle and easy, most people can't feel it at all. Getting Botox is known as a "lunch-time" procedure because it only takes about ten minutes in total and doesn't require any recovery time.
Botox Treatments Get Rid of Wrinkles
Patients get Botox for either it's anti-aging effects or excessive sweating. When injected into the face, Botox will get rid of wrinkles, crows feet and frown lines for up to 8 months. Botox can also be injected into the armpits, hands or feet to stop excessive perspiration. The procedure is quick and doesn't require any recovery time unlike other anti-aging treatments such as chemical peels, IPL and Mixto CO2. The results are visible almost immediately. However, with regular use, you will gain muscle memory and then you won't have to get the treatment done so frequently.
Botox Recovery Time & Side-Effects
Botox injections involve no recovery time and patients usually experience very minimal side-effects. If Botox injections are done by inexperienced or non-certified personnel, the results can be damaging and embarrassing. Always do your research and attend a medical spa with qualified and experienced staff to make sure you don't end up with a droopy eyelid or bruising.
Acne treatments include: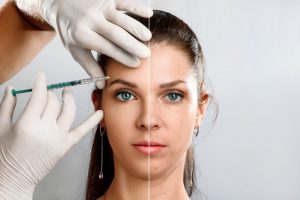 Facials: Acne facials incorporate various masks, steam baths and massages to reduce facial oil and remove dead skin cells while also hydrating. 

Chemical Peels: Includes application of chemical solutions such as glycolic acid, trichloroacetic acid, salicylic acid, lactic acid, or carbolic acid (phenol) to small areas of your skin for exfoliation.

Extractions: An esthetician manipulates the pores (either with fingertips or a metal tool) and removes the sebum that's causing the acne. Some extractions may involve a tiny incision or a prick with a pointed tool called a lancet. 

Intense Pulse Light: A technician will numb the area, spread on a cold gel and then place a glass prism on the skin. Pulses of intense light will flash through the prism and onto the skin.

High Frequency: This painless treatment simply includes the placement of a high-frequency machine wand onto the skin.

At-Home Products
Benefits of Facial Acne Treatments
All of these acne treatments will leave you with glowing, acne-free skin.
Acne facials and chemical peels work by removing embedded debris from within the pores. They eliminate blackheads and whiteheads to reveal clearer skin with improved texture.
Extractions puncture pimples and reduce acne in a sanitized environment without spreading bacteria or causing inflammation.
The IPL and high-frequency treatments emit special wavelengths that penetrate pores and cause them to produce free radicals to kill the bacterium that causes inflammatory acne and promote a healing effect on the skin.
Acne Treatment Recovery & Side-Effects
Post-treatment conditions will differ based on the type of acne treatment selected.