If you love taking care of trees and their surroundings, you can do it professionally. Moreover, you can guide trees from day one until they grow. A tree expert is also known as an arborist or a tree surgeon.
An arborist is the doctor of trees. They know everything about the growth, diseases, and cultivation of trees. Furthermore, they know how to manage trees individually to make them grow healthier.
It's important to take care of trees because they provide people with food, shelter, and clean air. They also prevent flooding and soil erosion. However, they can also cause damages if not taken care of properly, that's why arborists are needed to avoid these bad effects.
If you're interested to be an arborist, check this list of things you should consider before becoming one!
1. You should like what an arborist do
The most important thing, before you choose the path of being an arborist, is that you like the profession itself. Just like any other career, you'll go a long way if you love what you're doing. You should also commit once you've started so that you won't have to throw away the opportunity.
If you've decided to study arboriculture, you'll have to learn about:
Tree removal- the last thing an arborist would do. However, there are times when there's nothing else they can do but remove the tree. You should let them do it because they have the right equipment for it.

Tree planting- the most important task of being an arborist. As an expert, they can easily determine the right location on where a certain species of trees should be planted.

Pruning- protects and promotes healthier trees. It's necessary to conduct pruning depending on the needs of the trees. Usually, it's done during the Summer when there are damaged branches or leaves.

Emergency care- usually done when extreme weather conditions damaged trees. Some parts of a tree or the tree itself can cause damages to properties and people when it fell.
Aside from the major functions, there are more things you'll learn once you've enrolled in arboriculture.
2. Your undergraduate degree should be related to arboriculture
Before majoring in any field, you'll need the background to support your knowledge. Otherwise, you'll get lost, or you'll never get to enroll in the first place.
Studying to become an arborist requires a bachelor's degree related to it such as biology, agriculture, and horticulture. It's important to have a prior understanding of arboriculture to help you in the succeeding years.
If you don't have a college degree, it's not the end of your journey. The good news is that you can also have an associate degree or high school diploma with a major that's still related to being an arborist.
3. You should have prior experience (like an internship)
Aside from majoring in arboriculture, you'll also need hands-on experience. You can apply for jobs that will help you work with trees. Moreover, you can do internships in companies that specialize in tree care.
Hands-on experiences will help you move forward, and let you become more familiar with the different tasks and tools used. At first, you'll experience climbing trees more often than the professionals. Since they've done it many times before, it's your turn to get used to working from the top of trees.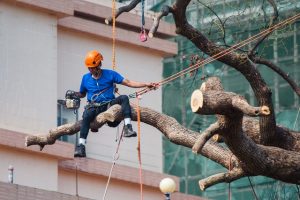 4. You're okay with studying again
As mentioned before, you should study in formal school to become an arborist. It'll take you 3 years to finish this specialization. Investing in a good educational background will give you an edge in this profession.
However, experience is also a priority. Make sure that you're willing to invest your time, effort, and money before you study again. Becoming a doctor of anything is a commitment so you should be ready about it.
5. You'll have to take a licensure exam
As a doctor of trees, you're required to pass the licensure exam. Your initial educational background will determine when will you take the exam.
If you have a bachelor's degree, then you'll have to take it a year after finishing the 3 years of studying arboriculture. Meanwhile, high school graduates and associate degrees can take the exam after at least 2 years of experience.
The International Society of Arboriculture (ISA) officially gives the certification for arborists that why employers prefer if you pass the exam. You can also apply for other specializations like Climber Specialist and Master Arborist.
6. You may have to relocate
Another thing to keep in mind is the possibility of being relocated. You'll have more opportunities if the area you're living in is warmer. Take into consideration living in an area that has a high possibility of vegetation.
It's also an option to travel from time to time. However, it'll be possible if you have good credentials.
7. You should be updated about the current techniques
After accomplishing the 3 years of arboriculture, doing on-the-job training, and taking the licensure exam, you still need to learn every day. However, it won't be as heavy as the past years.
Now, you get to learn while you enjoy what you're doing. Just always be careful while doing your tasks because you'll have to deal with heavy equipment, sharp tools, chemicals. It's important to follow protocols so that you won't get hurt.
Isn't it nice to have a crash course of what an arborist is and what they do? Now, it's your time to decide whether you're going to pursue this profession or not. Let us know what your decision is by leaving a comment below!