Building your house is a great way to start a new chapter of your life. Moreover, you can decide the specific design of each room in it. Of course, you would want to have a great kitchen, an inviting living room, and some cosy bedrooms.
Meanwhile, your bathroom is as important as any other room in your house. That's why you should make it look as if you're in a luxurious hotel bathroom, which will help you enjoy your future baths. Don't worry because you'll just need to make it look expensive but the cost is almost the same as your budget.
So if you're curious, you should check this list, and let your new home builders do some of them for you!
1. Paint the walls with one colour but add an accent
Apply a neutral paint colour on the walls and ceiling of your bathroom. You should also add an accent colour such as brass or gold to make it look more high-end. In addition, you should also make sure that your flooring compliments the paint you choose for the rest of the room.
If you choose a metallic accent for your bathroom, you can also choose the same colour for the doorknobs of the doors, cabinets, and drawers. Moreover, the frames of the mirror and windows can be the same colour.
2. Choose better lighting and add some dim lights
Isn't it weird to have too much white light in the bathroom? It feels like you're in a hospital, and you can't even fully relax because your eyes will hurt. Good thing you can now choose different lights for your bathroom, and other rooms in your house.
Aside from the main light that you'll pick for the bathroom, you should also have a few dim lights on the side. That way, your eyes will be fine if you just want to relax while taking a bath. Inform your new home builders beforehand about this plan so that they can arrange the placement.
3. Add a tree or plant to add a fresh note
Did you know that adding plants to your bathroom will make the place look fresh and bigger? Don't worry, if you think plants can't survive in a bathroom, you can choose the kind of plants that can survive indoors like alive vera and other succulents.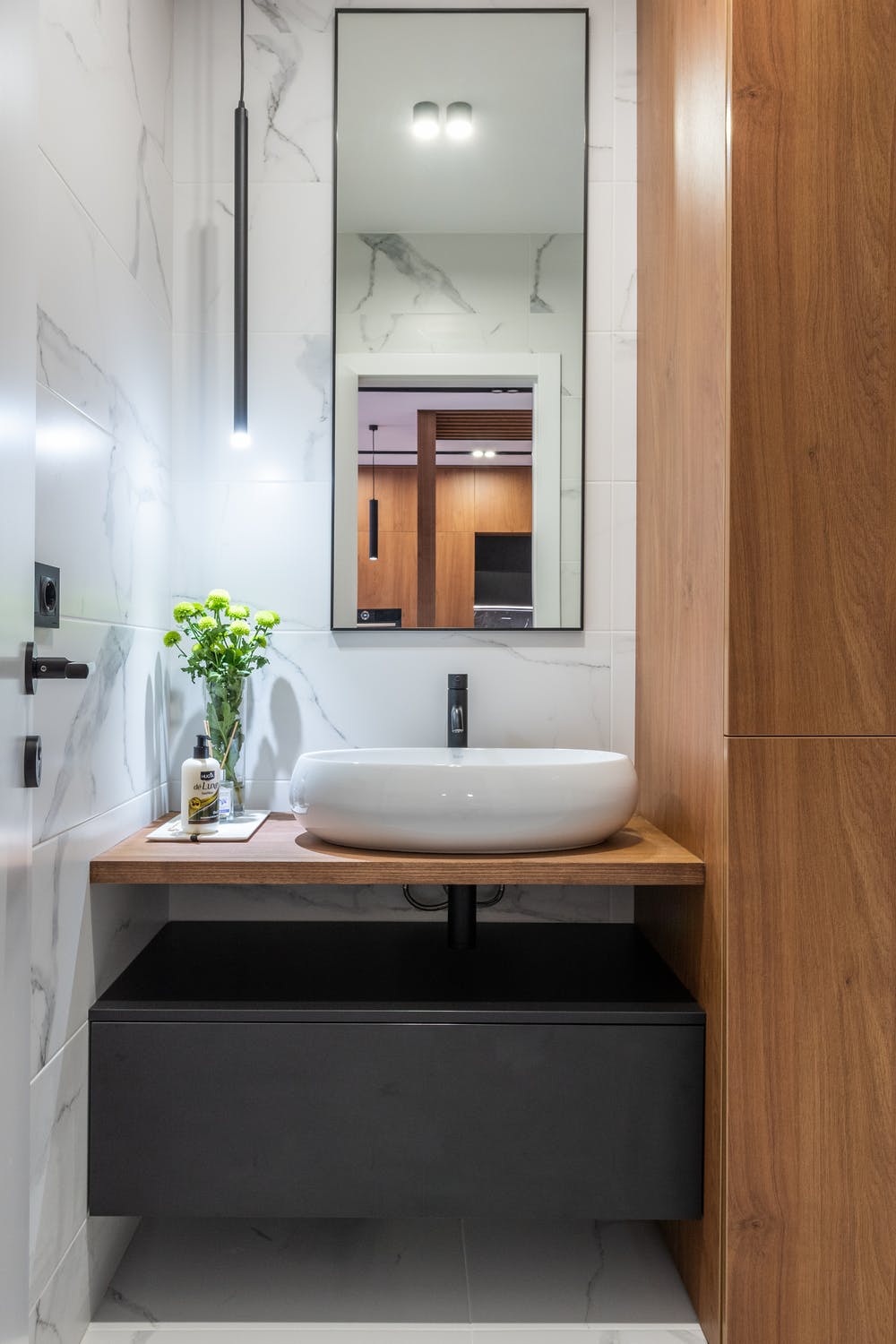 However, although they don't require much of your attention, you should make sure to place them near the window so that they can still receive some light from the sun. On the other hand, you don't need to worry about the water supply since you may not notice but there will be some splashes when you shower or take a bath.
4. Place a table or a bathtub tray for your things
You can place a small table near your bathtub so that you won't have to worry about getting your gadgets or books wet whenever you take a bath. However, if you don't have enough space for a table, then a stylish bath tray would suffice.
A bath tray is a great invention that requires a little space for storage. Once you're using it, just put it on top of your bathtub, and you're good to go. Another option is that you can just leave it there and put some decorations on it.
Did you know if you don't want to buy it, you can make your bath tray? But if you don't have the tools and the time, you can ask your new home builders to make one for you.
5. Keep things in order and be minimalist
If you have some drawers or cabinets where you can store your bulky things, keep them there. You can just display the products and tools you often use for your convenience. In addition, you should always remember that for some things, less is more and this is one of them.
Maintaining a minimalist bathroom will also save you time in the long run. Thus, you won't need to get annoyed every time you see everything on top of your vanity area. Another option is to keep an open shelf that can hold all the necessary things in your bathroom.
6. Upgrade your products or get classy containers
Having to maintain a luxurious-looking bathroom requires a lot of changes. One of them is changing the products you're using. However, if you still like them, you can just transfer them to classy glass bottles or containers.
Yes, it's also one way of not letting anyone know about the brands and products you use. Your secret shampoo, body wash, and lotion are safe with these lovely containers. Additionally, apart from keeping the brands that you use a secret, these containers will also make the place look more elegant and fancy.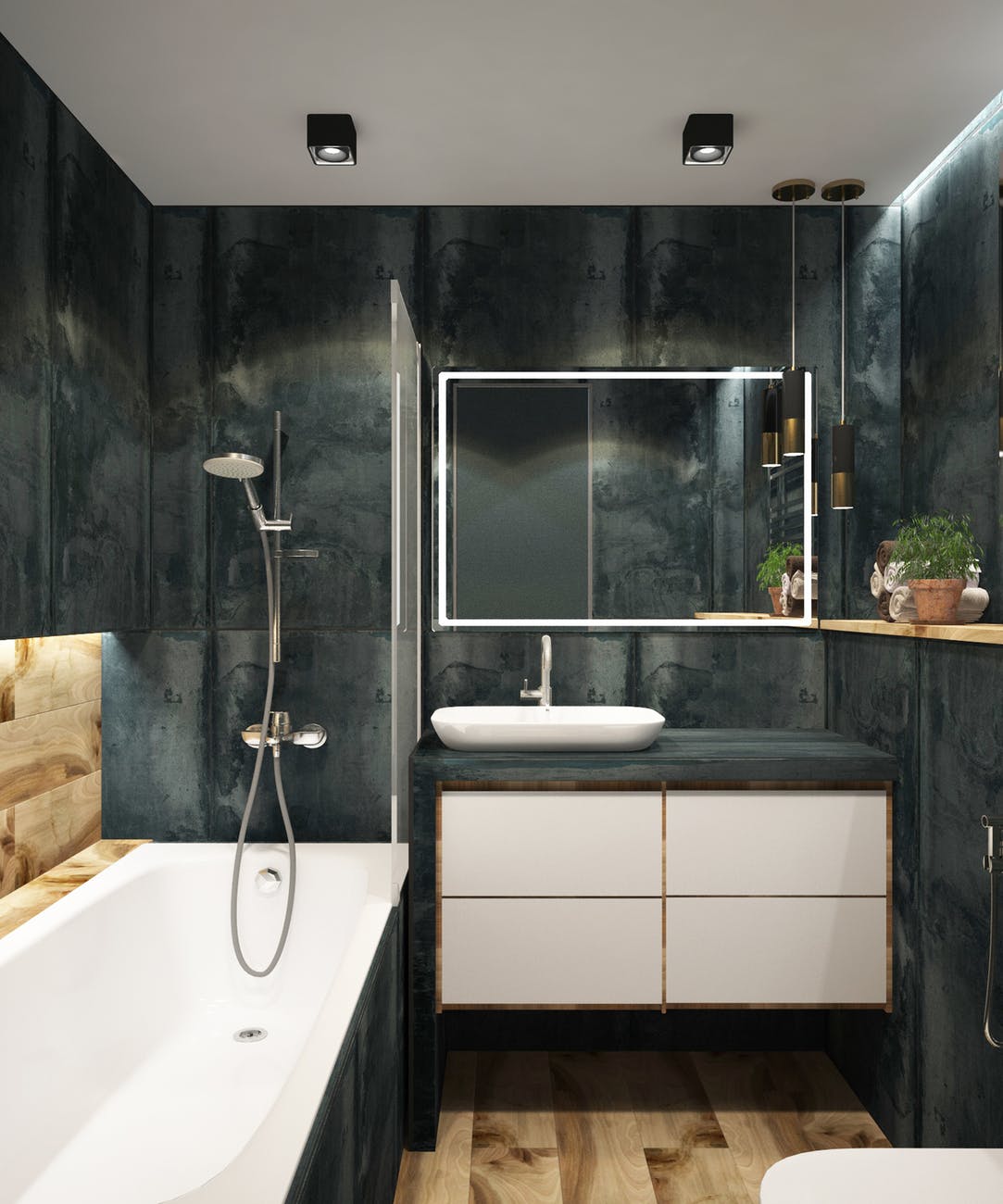 7. Add some fancy details that will tie everything up
Metallic towel bars, artworks, and fluffy rugs are some of the details that can bring your bathroom to a whole new level. Furthermore, you can also add some scented candles, potpourri, and magazines.
You can ask yourself about the relaxing things that can make your bath time more relaxing. And have you seen those clear glass containers where you can put q-tips, cotton, and bath bombs? They will help you organise solid stuff that you use while keeping them clean.
Are you excited to build the most relaxing yet luxurious bathroom you ever wanted? Then don't forget to tell your new home builders about the details you want to add. Let us know what's the finished bathroom looks like by leaving a comment below!