Hairstyles go beyond just managing your hair; they serve as a strong way to express yourself. One enduring style that exudes sophistication and timeless charm is the preppy hairstyle. These hairstyles have made a notable comeback recently and have their roots in prep schools and Ivy League traditions. These hairstyles have a neat and polished look, suitable for both men and women who want to enhance their style. This guide will provide a detailed overview of preppy hairstyles, including their history, current trends, and guidance on achieving the perfect preppy look for any occasion.
Preppy Hairstyles for Men
Ivy League Preppy Haircut
The Ivy League Preppy Haircut is a timeless choice for men who appreciate a clean, combed appearance. This haircut features a low-cut style that is perfect for summer, exuding a crisp and sophisticated vibe.
Side Part Preppy Hairstyle
The Side Part Preppy Hairstyle is a classic choice that remains popular among schoolboys and university attendees. With a defined side part, this hairstyle exudes confidence and refinement.
The Fringe Hairstyle for Men is a favorite among young men, offering a stylish and sophisticated look. This hairstyle features a middle part, with hair falling like curtains on the sides, creating a preppy and trendy appearance.
Curled Preppy Hairstyles add a touch of flair to your look. Suitable for various hair textures, this style incorporates side-parted hair that curls gently, offering a charming and polished appearance.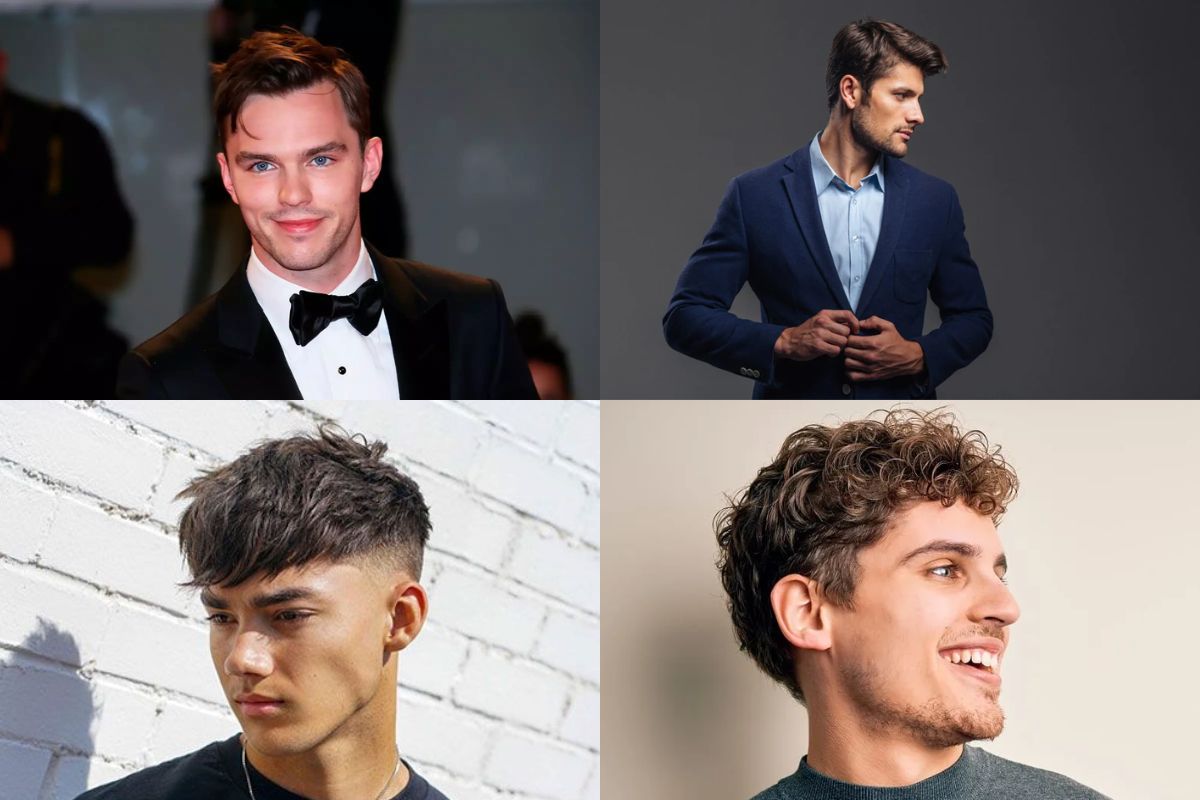 Preppy Hairstyles for Women
The Fancy Blowout is an excellent choice for women seeking a preppy look with a touch of elegance. It involves adding body and volume to your hair during a blowout, resulting in bouncy, playful waves.
Stylish Pixie with Fringes
Pixies with fringes are a timeless trend that complements women of all ages. This short and chic hairstyle with side-swept fringes exudes style and sophistication.
Embrace a relaxed yet elegant look with Messy Hair, Don't Care. Ideal for women with long hair, this style requires minimal effort, allowing your hair to fall naturally and frame your face beautifully.
The Layered Stylish Lob is perfect for a professional appearance. With a middle part and wavy ends, this hairstyle radiates grace and charm, making it an ideal choice for the workplace.
Styling Tips for Preppy Hairstyles
Achieving the perfect preppy hairstyle requires attention to detail and the right techniques. Here are some styling tips to help you achieve the desired look:
Use High-Quality Hair Products: Invest in high-quality hair products, such as styling gels, mousse, and heat protectants, to ensure your hair stays in place and looks polished.
Regular Trims: Maintain your preppy hairstyle with regular trims to keep it looking neat and well-groomed.
Embrace Minimalism: Preppy hairstyles are all about simplicity and elegance. Avoid overusing hair products and keep your look clean and streamlined.
The Versatility of Preppy Hairstyles
One of the remarkable aspects of preppy hairstyles is their versatility. Here are some versatile preppy looks:
Classic Asymmetrical Bob: This timeless bob can transform your appearance. Maintain your natural hair color at the roots and opt for a lighter shade for the rest of your hair to add volume.
No-Mess Top Bun: Achieve sleekness and sophistication with the No-Mess Top Bun. This hairstyle is perfect for the workplace and keeps your facial features in focus.
Voluminous Curly Bob: Combining curly and straight elements, this unique hairstyle is eye-catching. Highlight the curls by coloring the ends in a different shade.
Chic Braided Updo with Hair Accessory: Braided updos add a touch of elegance. Choose a chic hair accessory to accentuate the braid for a feminine touch.
Doing It Yourself
Achieving preppy hairstyles at home can be a straightforward process with the right tools and techniques. Follow these steps to create preppy hairstyles from the comfort of your home:
Gather Your Tools
Hairbrush or comb
Hair dryer
Straightener or curling iron (depending on the desired preppy style)
Hair ties, clips, or bobby pins
Hair product (gel, mousse, hairspray, etc.)
Wash and Condition
Start with clean, dry hair. Wash and condition your hair using products that suit your hair type. If you plan to create a wavy or curly preppy style, consider using products designed for enhancing curls.
Towel Dry
Gently towel-dry your hair to remove excess water. Avoid vigorous rubbing, as it can cause frizz.
Apply Styling Product
Depending on the preppy hairstyle you want, apply a styling product. For a sleek and straight preppy look, use a smoothing serum or heat protectant. For wavy or curly styles, apply a curl-enhancing product.
Blow Dry
Use a hair dryer with a diffuser attachment if you're going for a wavy or curly preppy hairstyle. For a straight look, use a round brush while blow-drying to achieve a smooth finish.
Secure Your Style
Use hair ties, clips, or bobby pins to secure your preppy hairstyle in place. If you're creating a bun or updo, twist and pin your hair neatly. For straight or wavy styles, make sure your hair is well-combed and in place.
Finishing Touches
To maintain a polished preppy look, consider applying a light-hold hairspray to keep your hair in place throughout the day.
Practice and Experiment
Achieving the perfect preppy hairstyle may take some practice. Experiment with different techniques and products to find the look that suits you best.
Bottom Line
Preppy hairstyles are a testament to the enduring appeal of classic and polished looks. Whether you're a man seeking a clean and confident appearance or a woman aiming for elegance and sophistication, preppy hairstyles offer a wide range of options to suit your style and occasion. By embracing simplicity, quality products, and regular maintenance, you can effortlessly incorporate preppy hairstyles into your everyday look, elevating your style to new heights. So, why not try a preppy hairstyle and discover the timeless charm it can bring to your image?