Ever looked at your grandma's old, black and white photos and said, "that hair and makeup look amazing. I want to steal that look!"
Beauty has an abundant history filled with amazing hair and makeup trends that have defined the decades. It's also amazing how some of these glorious trends find its way back into the beauty world for today's generation to appreciate and recreate. The winged eyeliner, false eyelashes, and edgy, thick bangs you're rocking? Your grandma did it first – and she probably wore it better in her hayday.
Let's take a trip down the memory lane and look at the 13 most influential trendy hair and makeup styles that shaped the past century.
1. Red Lipstick (the 1900s)
Nothing says, "classic beauty" better than red lipstick. But here's something interesting: Before the signature red pout dominated the fashion magazines, it used to symbolize rebellion and independence.
Red lipstick is more than just a beauty trend, but a bold statement that meant different things to women of different eras. It was an emblem of defiance for women seeking the right to vote in the 1910s, a seduction tool in the '30s to '50s, and a symbol of rebellion in the 1980s. In a nutshell, it's a symbol of women empowerment.
2. The Bob Cut (the 192s)
This edgy hairdo is more than just a trend- it became a symbolic shedding of the traditional rules of femininity of the previous century. It's a cosmetic shift toward androgyny, giving women a sense of confidence. All thanks to the influential women of the '20s, including designer Coco Chanel, actress Louise Brooks, and dancer Irene Castle, who rocked the bob during their time.
3. Overdrawn lips (the 1930s)
Today's overdrawn lip trend for the love of fuller lips can be traced all the way back to the early 20th century. Hollywood celebrities, like Marlene Dietrich, used to go outside their normal lip line to create the illusion of curvier, fuller lips.
4. Full, thick brows (the 1940s)
Long before Brooke Shields, Cara Delevigne, and Lily Collins roamed the earth, thick, lush brows were already fashion-forward. Following decades of pencil-thin brows (ehem, the '20s, and '30s), women embraced bushier, natural-looking arches. Women paired their bushy eyebrow makeup well with smoky eyes.
5. Winged liner or Cat-eye (the 1950s)
Cat-eye can trace its origins all the way back to ancient Egypt. Egyptians, including our OG beauty icon Cleopatra, used kohl liner to draw heavy lines on their lids not only to look beautiful but to protect their peepers from the sun and ward off the "evil eye."
Though iconic cat-eye has been worn for centuries, let's give credit to Marilyn Monroe for making it a huge hit, having it worn in her 1950 film-noir crime drama, The Asphalt Jungle.
6. Thick bangs (the mid-'50s)
Bangs were all in the rage in the 50s, whether it's a heavy, straight down fringe or a thick cut that swept sideways.
In the 1940s, women's hair should be neat and kept away from the face – until Bettie Page, the "Queen of Pinups", sported the look in 1955 when she appeared in Playboy. If you're thinking of rocking the classic "pinup girl" costume, with wavy, jet-black hair and short, thick bangs, don't forget to thank Ms. Page for the trademark look.
7. Loads of false eyelashes (the 1960s)
Falsies weren't born in the 21st century. Women wore long, dramatic eyelashes way back 1960 – thanks to supermodel Twiggy, a fashion icon of the 60s. If you want to rock the 60s doll-like look, don't forget to make your way to the bottom lashes too.
8. Bombshell hair and fringe (the 1960s)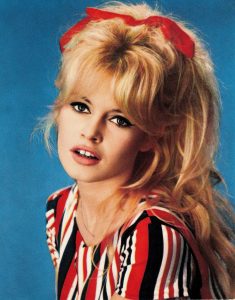 The "just got out of bed", messy hair look isn't a thing of the 21st century. It's called bombshell hair. Icons, like Brigitte Bardot, made the messy hairdo look sexy and effortless back in the day.
9. Cut crease eyeshadow (the 1960s)
This makeup style's name may be unfamiliar to you, but you've surely seen it a lot. Cut crease eyeshadow involves putting light eyeshadow on the lids and layering it with a harsh, darker shade on top of the lid crease in a V-shape. Actresses Diahann Carroll and Audrey Hepburn are some of the famous wearers to accentuate their hollow lids.
10. Afros (the 1970s)
Afro was truly popular back in 1969. It was an emblem of beauty for black women in the era. Divas Whitney Houston and Diana Ross are among the beautiful ladies who embraced their fluffy, kinky locks.
11. Natural/Light Pastel Eyeshadow (the mid- '70s)
In the mid- '70s, women began to pare back, ditching dark eyeshadows for natural, no-makeup looks. If they weren't bare-faced, women opted for lighter pastel hues. Thanks to the cultural rise of hippies and folk music during this era, most women opted for a natural, earthy appeal, with light bronzers and nude lipsticks.
12. Floral headpieces (the late- '70s)
Floral headpieces were already a hit before they dominated Pinterest. In 1979, women wore flowers for their hair accessories before heading to their disco night out. Disco queen Donna Summer is one of the icons to thank for.
13. Bold and colorful makeup (the 1980s)
Light pastels out, bold, vivid hues in. People love wearing vibrant pink, blue, purple, and green eyeshadows back in the '80s. Bright pinks and reds also added a lovely pop of color to the cheeks. And who can forget the signature color-blocking makeup of Boy George and Madonna?