Nothing inspires your inner artist like perfectly manicured nails with a stunning design. Obviously, there is always something to fit every style and attitude, but no trend has endured as long as ombre coffin nail art. Ladies have long been fans of the distinctive two-toned color look, which is often darker at the tip and lighter at the bottom. Given the contrast between the two tones, the colors produce a beautiful aesthetic impression where they seem to melt into one another. So, which coffin ombre nails art should you try?
The elegance of your nail polish enhances the beauty of your nails. You will see something terrible whenever you look at your fingers if you choose unpleasant colors and patterns. Do you want that?  You can choose from a wide variety of coffin ombre nails patterns as a result. The design has a fashionable gradation of quirky tones. What are the most imaginative and distinctive nail art designs?
Excellent ombre coffin nail art ideas If you haven't noticed, the fashion industry is exploding with the most improbable concepts. Some of them are absurd, while others seem futuristic. This fad brings about the required growth in fashion, just as hairstyles have. The popular ombre nail art style, which uses subtle color blending, has established itself as a trendsetter and woke people's favor. What choices do you have between short and long coffin ombre nails?
Ombre Pink and White Nail Art 
Do you know how nicely pink and white go together? A great alternative to the typical mani is this pink and white ombre nail art. The bright shading is ideal for milder weather and fits a summer outfit well. If the bridal party's attire matches the color of the artwork, that is. The combination of light pink and white has a wonderful impression without being too daring.
Ombre Gold Nail Art
Gold looks fantastic on nails since it complements many different types. It is the finest approach to look stunning and use your Midas touch. Whatever you are wearing, the gold coffin nail pattern makes a powerful statement and is an outstanding accent. Of course, you may accessorize the vibrant designs on our nails with complementary jewelry that is a match.
Glittery Ombre Coffin Nails 
Glitters are always a good choice, so this manicure is fantastic for your nails. To create a simple ombre appearance, simply paint your nails any color you like, then add some stunning glitter to the tips. The glitters, whether they are sprinkles or big dots, will sparkle and make your nails look beautiful. So try Glittery coffin ombre nails out.
Ombre Neon Pink Pattern 
The neon pink ombre effect is ideal if you want a radiant and revitalizing finish. One of the nicest ombre coffin nail designs available is this one. And to do it, just combine any light shade with neon nail polish. This amazing combination will result in a distinctive final product.
Combination of Black and Clear Ombre Nails 
The black and clear ombre nail art combination is a classic style with a contemporary twist. The nail tips have a clear, glossy appearance that makes them ideal for anyone seeking shade that goes with any outfit. Women who frequent nightclubs will love the design.
Shiny Decals on Ombre Nails 
This innovative pattern is fantastic if you're seeking the ideal medium-length coffin ombre nails. The sparkly decals on the ombre nails add a trendy touch. It also features decals of rhinestones and snowflakes. Additionally, the stunning contrast of light colors and decals contributes to the stunning seasonal appearance.
Pink Hearts on Ombre Nails that are Clear
The most remarkable thing about nail art is that it is not constrained; you may go as far as you like or even choose a less expressive design. One to anticipate, for instance, is the transparent ombre with a pink heart nail pattern. Your nails' transparent polish serves as the ideal blank canvas for emotions.
Basic Ombre Nail Art 
The best approach is sometimes to keep things simple. Because of this, if you don't want anything spectacular, you can choose the uncomplicated, simple ombre nail design. The look features glossy transparent polish applied to your nails, giving them a more natural appearance.
Ombre Nails at Sunset
Did you know that mixing pink, grey, and orange would give your nails the appearance of a sunset? One of the most popular summer coffin ombre nails designs is the sunset, which flawlessly accentuates the sunset impression. The vibrant combination radiates style without sacrificing refinement. For the majority of women, it is a flawless appearance that is ideal for summer vacations and casual events.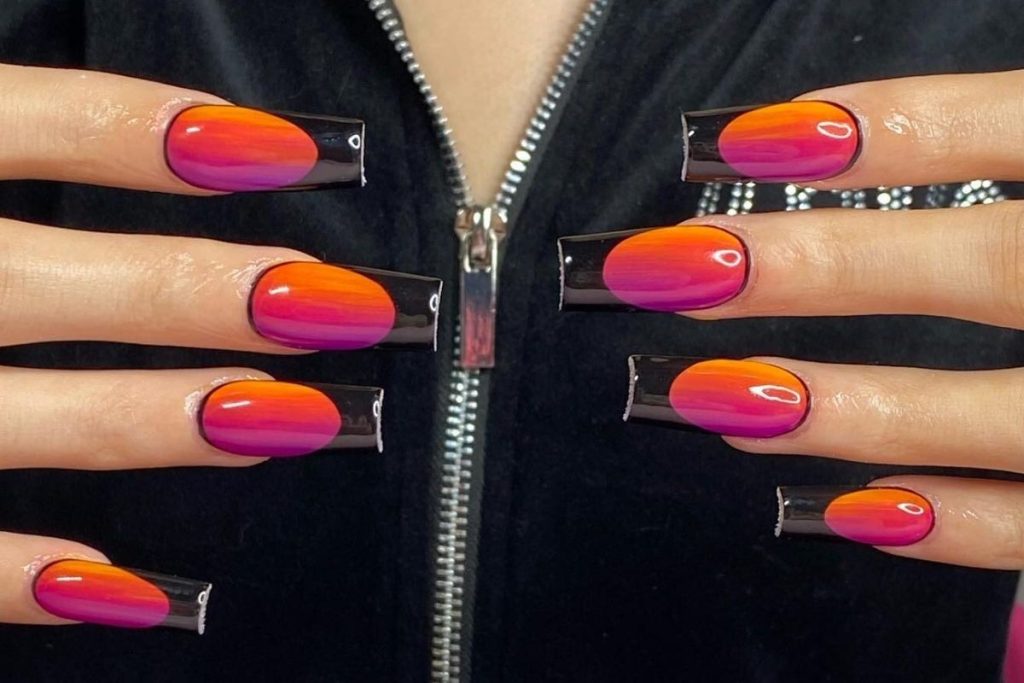 Nails that are Pink Ombre with Marble Rose Accents 
The pink ombre design with marble rose embellishments is ideal if you're seeking the best nail art for dark and olive complexion tones. Purple and pink gradients, as well as marbling in semi-transparent rose gold, are used in the artwork. However, you must first try this look-on to see how it seems to you.
Lastly
Since everything in the fashion industry is made to impress and cater to a variety of interests and preferences, there is never a dull moment. The best coffin ombre nails design are unavoidable and will completely complement your style.