Johnny Depp is a great actor, musician, and producer. He is also famous for his style. He loves to wear jewelry and accessories. He does not choose his jewelry based on the event, but on what he likes. He has many pieces of jewelry, but we will focus on his rings. 
Johnny Depp is often associated with two distinct items: rings and necklaces or chains. In this blog post, we will explore the secrets behind Johnny Depp's rings.
Most Popular Johnny Depp Rings

Johnny Depp rings are partly influenced by his famous role as Captain Jack Sparrow in the Pirates of the Caribbean series. Depp said that he wanted his character to have a rock star vibe, like the pirates did. He also said that he added some of his own jewelry to the costume, to make Jack Sparrow more personal. Some of the johnny depp rings are the same ones that Jack Sparrow wears in the films.
For instance, on his right hand's index finger, he wears a silver ring with a skull and a green emerald. He bought this ring in 1989, and he wore it on the cover of Rolling Stone magazine that year. He also wore it in several movies, such as Cry-Baby, Benny & Joon, and What's Eating Gilbert Grape. He gave this ring to Jack Sparrow because he thought that it matched his pirate style.
Another ring that Johnny Depp has in common with Jack Sparrow is a gold ring with a purple amethyst on his left hand's index finger. This ring is a reproduction of a 17th-century ring discovered in Rome. 
The genuine ring was taken from the production set of Pirates of the Caribbean: The Curse of the Black Pearl, therefore a duplicate was created by the filmmakers. Actor Johnny Depp chose to keep the replica after filming concluded and still wears it presently.
Skull Ring

One notable element that captured the interest of audiences in the 2003 film Pirates of the Caribbean: Curse of the Black Pearl was Jack's emerald-skull ring and leather tricorn hat. Jack only had one ring in the movie, and it turned out that the ring with a skull-shaped emerald was Johnny Depp's own.
Tonto Ring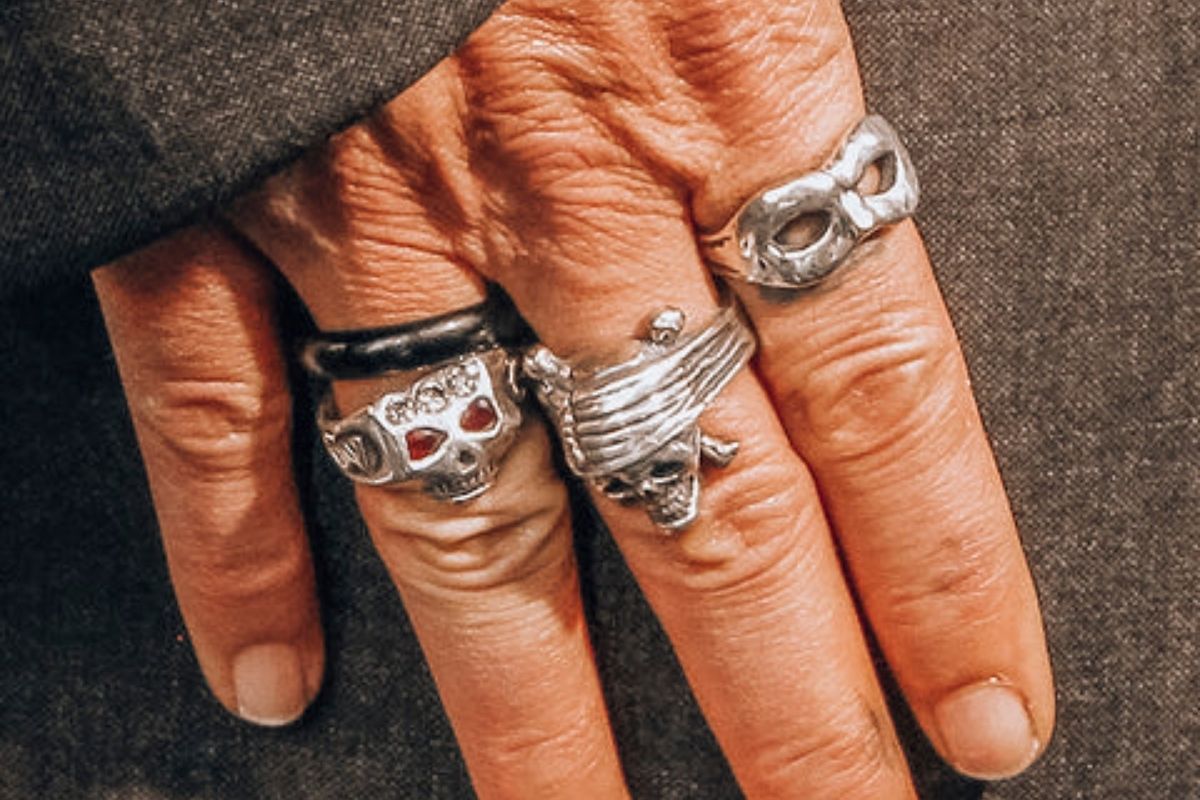 One of the Johnny Depp rings collection is the Tonto ring, which is inspired by his character in the movie Lone Ranger. It has Depp's signature warpaint and the crow's headpiece on it.
If you look closely, you will see every detail that reminds you of the movie. The ring also has the same design as the tattoo that Johnny has had for his whole life.
The design also resembles a tattoo he has been sporting since 2012 on his wrist. There are rumors that Depp and seven of his friends got matching tattoos as a tribute to Damien Echols. The actor holds a personal connection to the symbolism of crows, which are thought to transport the spirits of the deceased to another realm and potentially return them to Earth.
Death Is Certain Club Ring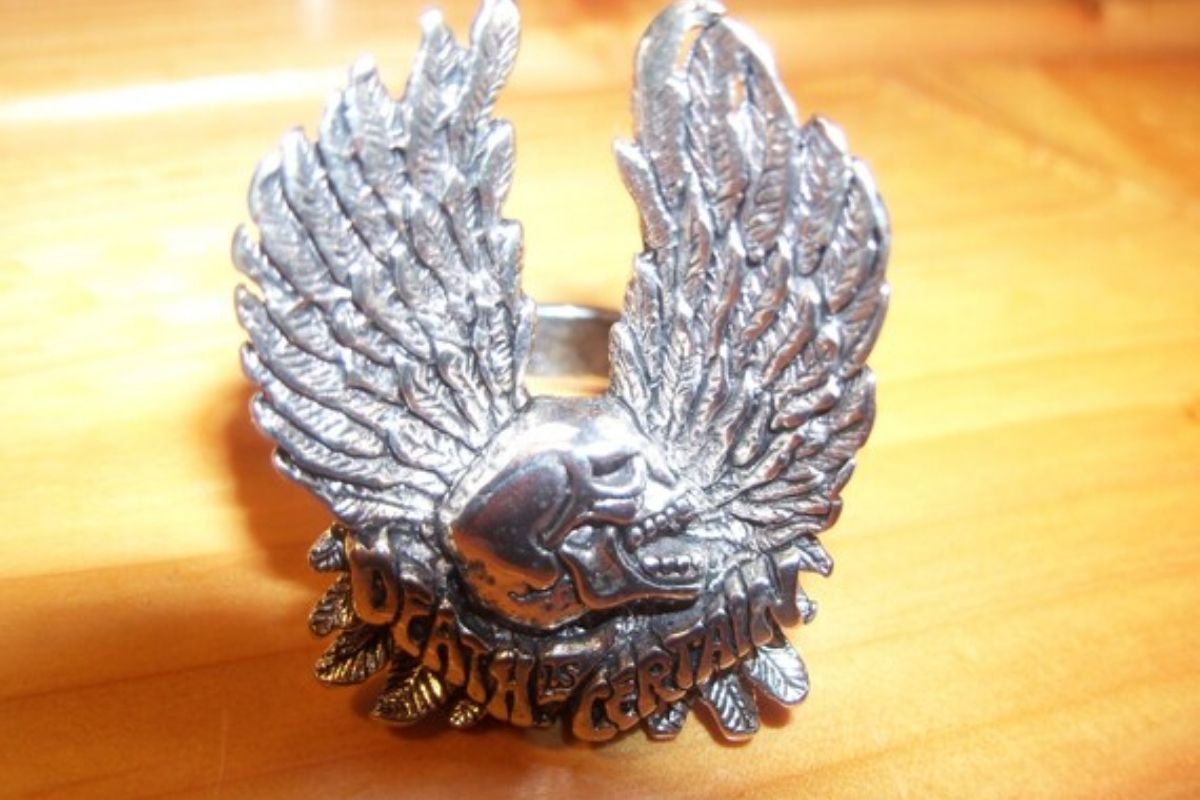 In the 1990s, Johnny Depp, along with his friends Jim Jarmusch, a film director, Jonathan Shaw, a tattoo artist and novelist known for creating most of Depp's tattoos, and musician Iggy Pop, founded a club called The Death is Certain Club.
The ring has a distinctive rectangular shape resembling a skull. Two red gemstones serve as its eyes, while three clear faceted crystals adorn its forehead, with the central one being slightly larger than the others. The ring's shank features two additional elements that catch the eye: the number 3 and the Brave symbol, both made of yellow gold to contrast with the silver finish.
The Carved Rings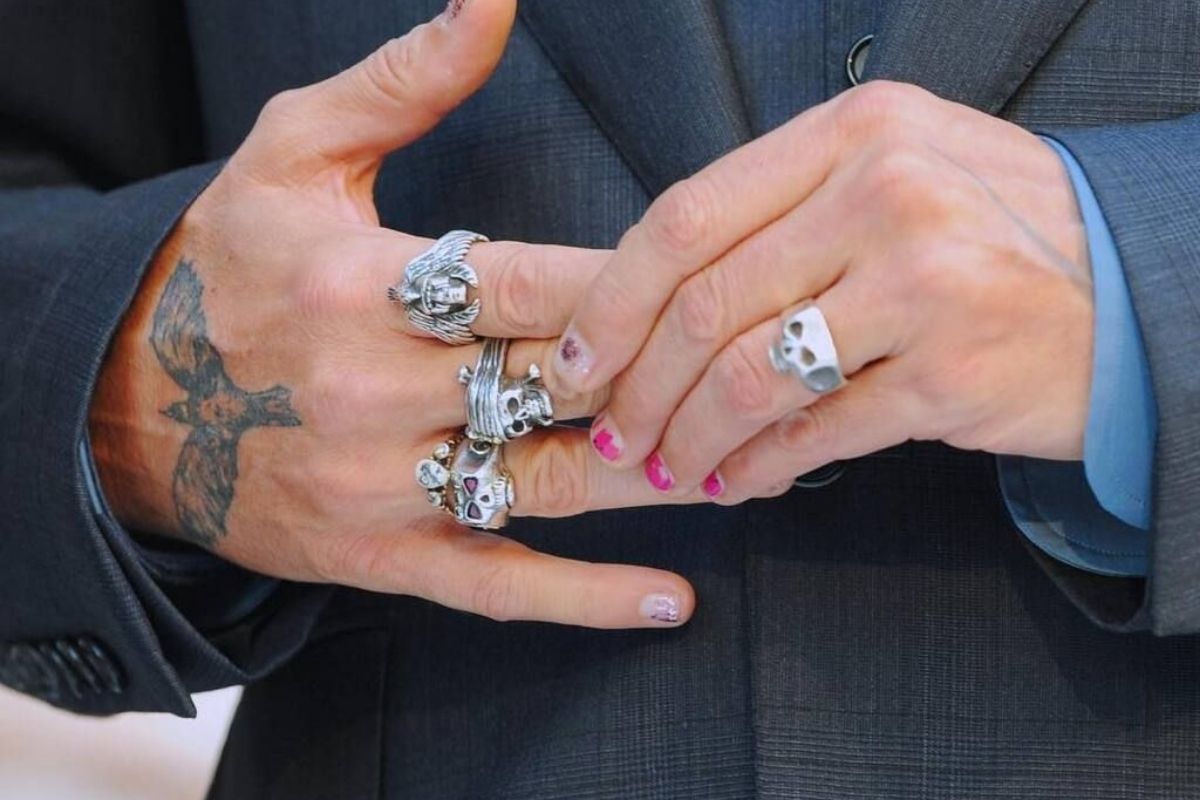 Johnny Depp has always been known for his love of art and craftsmanship. So it comes as no surprise that he would wear intricately carved rings on his fingers.
One such ring is a silver band with Egyptian hieroglyphics engraved on it. This ring represents Johnny's fascination with ancient civilizations and their culture.
Another notable piece is the gold signet ring with a skull design showcased in one of his films "The Tourist." The skull symbolizes life beyond death and may hold a deeper meaning for Johnny in terms of life and mortality.
Other Rings and Their Meanings 
Johnny Depp has some other rings that he wears for different reasons and stories. For instance, on his right ring finger, he wears a plain silver band that he got from his former wife Amber Heard. He said that this ring was his wedding ring and that he kept it on because he hates to waste things.
On his left hand's middle finger, he wears a silver ring with three black stones that say "Betty Sue". This is his mother's name, who died in 2016. He said that this ring was a way to honour her memory and that he loved her very much.
On his left hand's thumb, he wears a silver ring with a blue-green oval stone. He got this ring from a Native American tribe called the Comanche Nation, who made him an honorary member in 2012. He said that this ring is a sign of thankfulness and respect from the tribe, who accepted him as one of them.
Bottom Line
There you have it – the hidden meanings behind some of the most iconic johnny depp rings. Each one holds sentimental value or symbolism related to important relationships or moments in his life. It goes to show that there is more than meets the eye when it comes to accessorizing oneself.
Johnny Depp rings are more than just accessories; they are expressions of his personality and life story. They reflect his influences, interests, values, and relationships. They also show his creativity and individuality, as he mixes and matches different styles and designs. Johnny Depp rings are not only fashionable; they are also meaningful and inspiring.