Whether curvy, heavy, or thin, every woman, no matter the body shape or size is the epitome of beauty. In fact, a woman is the best creation of God. So what if you are curvy? Don't blame yourself. Don't feel jealous of skinny girls and get disappointed. Keep reading this blog to know various tips to flaunt a woman curves and rock on every occasion and party.
My dear, every woman is beautiful and unique in her way. You should not feel embarrassed because of your looks, body, or personality. It is the time to show off your beautiful curves in style and stand above everyone. Don't know where to start?
Best Tips To Accentuate Woman's Curves
1. Right Clothes Matter
This is a no-brainer. One of the best tips to flaunt a woman curves is to choose the appropriate clothes as per your body shape and size. Don't wear extra loose or oversized clothes to hide your curves. Doing so will actually make you look more fat and heavy. Even don't try to fit yourself in too skinny or tight clothes as it can make you feel suffocated and restless. 
The best bet is to get your clothes designed or tailor-made as per your body shape to flaunt your curves in the best way possible. 
2. Wear Your Confidence
There is no point in wearing the right clothes to flaunt your curves if you still do not feel confident about your body. Confidence is the best accessory a girl can wear. Accept yourself and be confident enough to present yourself in front of everyone. Most people will first notice your confidence rather than your curves. 
There are many women who dream of having curvy bodies. However, not everyone like you is blessed with beautiful curves. Therefore, it is important to embrace and show off your curves with full confidence and style. 
 3. Buy Good Lingerie
Lingerie is one of the most important wardrobe essentials that every woman needs. Lingerie is not just confined to your bedroom. Whether you wear it alone or underneath your dress, it helps to present your body in the best shape possible. 
However, it is vital to pick the right size so the lingerie isn't too tight or loose. Wearing loose or ill-fitting undergarments can destroy your overall personality and make you look uncomfortable. So, if you want to look and feel the best both from inside and outside, invest in good lingerie to highlight woman curves.
Buy the one that fits your body, supports your body shape, and above all makes you feel comfortable all day long. 
4. Invest In Shapewear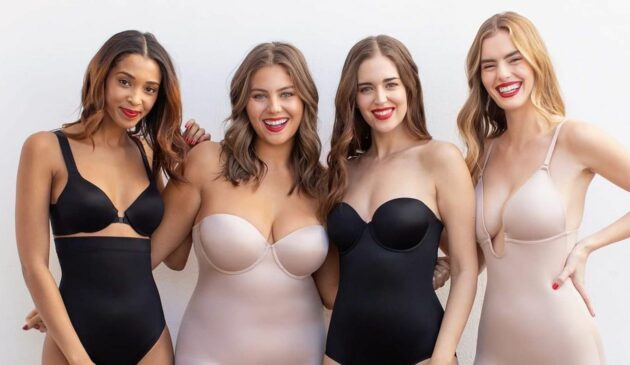 Girl, shapewear is totally a game changer and can help you ace your fashion game. It is one of the best inventions in the world of garments and beauty. In fact, it is one of the most common buys to flaunt woman curves. Whether a family party or office lunch, shapewear can take your overall look one notch higher and uplift your confidence. 
From the tummy to hips, thighs, waist, and bust, wearing shapewear helps to contour most of the woman curves and makes you look great. Shapewear is available in a vast variety of styles, sizes, and colors. So choose the one that caters to your personal needs and requirements. Doing so can help you achieve the perfect hourglass figure. You can wear shapewear beneath every dress ranging from saree to skirt, and midi to make your body look toned and sexy. 
5. Wear Low Neckline Clothes
Does your wardrobe have high-neck dresses? If yes, then it is high time to shop for lower necklines.
Whether a dress or top, wearing clothes with a lower neckline can make your chest area and upper body look good and attractive. You can wear such clothes to flaunt your collarbones and cleavage and let your curves speak for themselves. 
After wearing such clothes, you will definitely feel amazed by seeing the results on your body shape.
Additional Tips To Flaunt Woman Curves 
Wear clothes having two bold and contrasting colors

Wear heels to create the illusion of well-toned and long legs

Consider wrap-style dresses and tops

 Wear a belt on loose-fitting tops or dresses

Consider off-the-shoulder tops 
In The End…
Hopefully, these tips can help you bring the best out of your body curves. Above all, make sure to be happy and dress in what makes you feel comfortable and content.
All that matters is a smile on your face and complete satisfaction. No need to make experiments. Embrace woman curves with full grace and elegance.
Flaunt your curves without any hesitation or shame. They are the part of your body only. Remember you are the queen of your world. Be proud and feel happy about your beautiful body. 
For more updates and information, stay connected with us. We try our best to equip our audience with the best knowledge.