Singapore is indeed a paradise for those looking for beauty, culture, history, landmarks, shopping, food, and entertainment. It offers all of these coveted aspects and a lot more! The island nation is a top draw for tourists around the year along with business travelers who also visit in large numbers. If you are visiting Singapore anytime soon, then you should certainly make plans to explore the sights and sounds of the city on your trip. However, it is not just about visiting famous landmarks and taking snaps at memorable places. Exploring Singapore is best done on foot.
Free walking tours in Singapore are great ways to literally delve deeper into the history and culture of the place, along with building bonds with locals, tasting great food, and making memories for a lifetime! These free tours of Singapore will be unforgettable experiences and take you deep into Singapore's soul. There are several walking tours that are available absolutely free of cost.
Here are Some of the Singapore Walking Tours That You can Consider on Your Visit
1. Little India Walking Tour
This is one of the most popular free walking tours in Singapore. This trail will take you along the pathways taken by the earliest settlers in the island nation. You will love the beautiful Shree Lakshminarayan Temple and the wonderful Sri Veeramakaliamman Temple. Vibrant attractions along this route include the Haniffa Textiles along Serangoon Road and the house where Tan Teng Niah once lived. The successful Tan Teng Niah has stories about him that you will love to hear from the locals. This house is more than a hundred years old! You can then feast on Indian delights including papadum and of course, some delectable Biryani, which is irresistible, to say the least.
2. Chinatown Walking Tour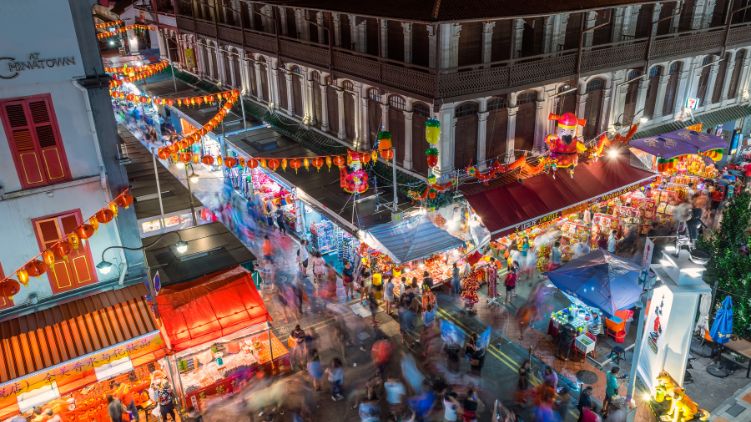 You will love the charming experiences on offer across Chinatown. Explore the Fuk Tak Chi Museum. Did you know that it was the oldest Chinese temple in the island nation once? Probably not! You should also visit the oldest Hokkien Temple here, namely the Thian Hock Keng. You can also explore several other cultural destinations including the Buddha Tooth Relic Temple and Museum and the Chinatown Complex. Feast on the best local fare including oyster omelets, barbecued stingrays, and more. Sago Lane is another place to watch out for on your route. It was once home to several funeral parlors and was called the street of the dead. It has now become a major food hub for gourmands and comprises several eateries.
3. Kampong Tours
Explore the grounds of the ancient palace, while taking in the exquisite murals which make Kampong Gelam so iconic. Get tempting nuggets of information on how Kampong Gelam was one of the very first Singapore settlements, and how it evolved into a major retail zone today. This is a great place to visit several boutiques and also taste the fabulous coffee and tea served by various local brands. The Aliwal Arts Centre is another great place to explore on your trip while viewing mesmerizing artistic and cultural performances here. Kampong adds a whole new dimension to your trip, without a doubt.
4. Riverfront Walking Tours
One of those classic free walking tours in Singapore, this one will take you through several tourist landmarks and the vintage shops along the riverfront, along with several sculptures, vibrant bars, and restaurants. You will also love the fabulous views on offer at the spectacular Marina Bay Sands and financial district post-sunset.
5. Sungei Buloh Wetland Reserve Tours
Singapore has a blissfully green swamp that has been preserved. This lies in the island's northwestern zone. You can venture on a tour of this amazing destination, learn more about the rainforest and also view the varied species that stay within this protected reserve. You will love the natural beauty all around, while you move on to spots like the Singapore Botanic Gardens and the MacRitchie Reservoir.
6. City Walking Tours
Walking tours of Singapore City are all about witnessing this bustling megapolis in all its glory! You will love exploring attractions in the Civil District of the island nation, like the Old Parliament House. You will go along the river which connects all these attractions and also takes in the famous Padang, Merlion Park (which needs no introduction), and the Victoria Theatre, which has a rich legacy of its own. The charm of Singapore will not be lost on you as you make your way through some of its most chequered destinations.
7. Marina Bay Walking Tours
What is a trip to Singapore without checking out Marina Bay? You should consider a walk along the place while looking at several fabulous examples of architecture en route. You will be lost in the spectacular views when you visit the Gardens by the Bay. You should also check out Marina Bay Sands. This is another iconic structure that has been synonymous with Singapore for a long time now.
8. Changi Airport Tours
If you have exhausted all your options, then you can simply take a tour of the breathtaking Changi Airport, the only one of its kind in the whole world! Developed in 1991, it is truly one of the best-ever global airports. Ferret out the interesting legends and tales behind its creation and check out how the airport functions on a regular basis, along with its top-notch amenities and other attractions. You can also explore the varied attractions and retail outlets here along with the restaurants and wellness options. The Rain Vortex and Shiseido Forest Valley will also leave an indelible impression on your mind. There are opportunities to take great pictures almost everywhere at Changi Airport. You can wander all around the huge recreational zone with its one-of-a-kind attractions.
These are some of the top walking tours that you can take in Singapore. The island nation is known for being one of the world's largest financial, trade, and commercial centers. Many people also know it for its landmarks, spectacular buildings, and recreation/entertainment offerings. However, there are entire worlds beyond these tropes, as you will find out on your walking tours.
Discover a whole new Singapore, one filled with nostalgia, monuments, spirituality, evolution, great food, friendly locals, and fascinating stories that you will never forget. If you are planning a Singapore trip, then make sure that you book your accommodation and flight tickets well in advance. You can consider Singapore short-term rentals which are near major landmarks and business zones. At the same time, consult your local contacts and do your homework on the best walking trails here. Here's to an amazing trip ahead.