When was the last time you cleaned your furniture upholstery? Have you noticed dirt, dust, or stains on your couch, chair, or loveseat? If yes, giving them a good deep cleaning is high time. Ignoring upholstery cleaning can lead to allergies and health issues as dirt and dust mites accumulate over time.
To clean your upholstery efficiently, you must have a plan in place. This blog post explores some helpful tips for upholstery cleaning. We'll also highlight some common mistakes people make while cleaning their furniture.
Tip 1: Vacuum Thoroughly Before Cleaning
Before you start with any form of wet cleaning on your furniture fabric, ensure that you vacuum it thoroughly. Use the attachments, such as crevice tools, to remove grime from corners. Use a portable carpet cleaner and upholstery cleaner for better results if necessary.
Anecdote: My friend borrowed my portable carpet and upholstery cleaner last year without my permission. She used it to clean her couches but ruined her off-white slipcovers because she didn't vacuum beforehand! Always remember: Vacuum First!
Tip 2: Read Upholstery Care Labels before Cleaning
Every piece of furniture comes with a care label that provides specific instructions about cleaning methods suitable for the material used in making it. Before starting the cleaning process, check these labels carefully to avoid any mishandling of furnishing.
Tip 3: Spot Test Your Cleaning Products
Different fabrics react differently when exposed to chemicals in various cleaning products like bleach or vinegar solution. Therefore, never use anything new directly onto furnishing covers before performing a "spot test."
Spray or apply minimum vinyl lettering off-site visible surface area first – preferably somewhere inconspicuous – so that if there is an adverse reaction during testing – no harm is done! Knowing if the cleanser is wrong for your fabric before you commit the mistake is critical- so be safe!
Tip 4: Use an Appropriate Cleaning Agent
The cleaning agent you use will highly depend on the material of your upholstery. For example, the leather may require spraying magnesium oil or lotion instead of a baking soda solution. If you have suede fabrics, it's best to brush them gently with a suede brush rather than soaking or wetting them down.
Tip 5: Avoid Over-Wetting Your Upholstery Fabric
Over-wetting furniture is an enemy that could ruin everything from foam cushions to couch frames as water penetrates beneath wood and soft furnishings making everything swell up for days till they are destroyed! It is thus crucial to avoid over-wetting at all costs.
If possible, stick to dry foam/upholstery cleaner methods and never use too much water on couches but give a light mist spray instead – just enough moistness to make your sofa smells freshly laundered without soaking its cushion filling, which could take up to several hours (if not days) – depending on weather conditions like humidity levels in your home!
Common Mistakes People Make While Cleaning Their Upholstery
Mistake 1: Not Using Professional Services When Needed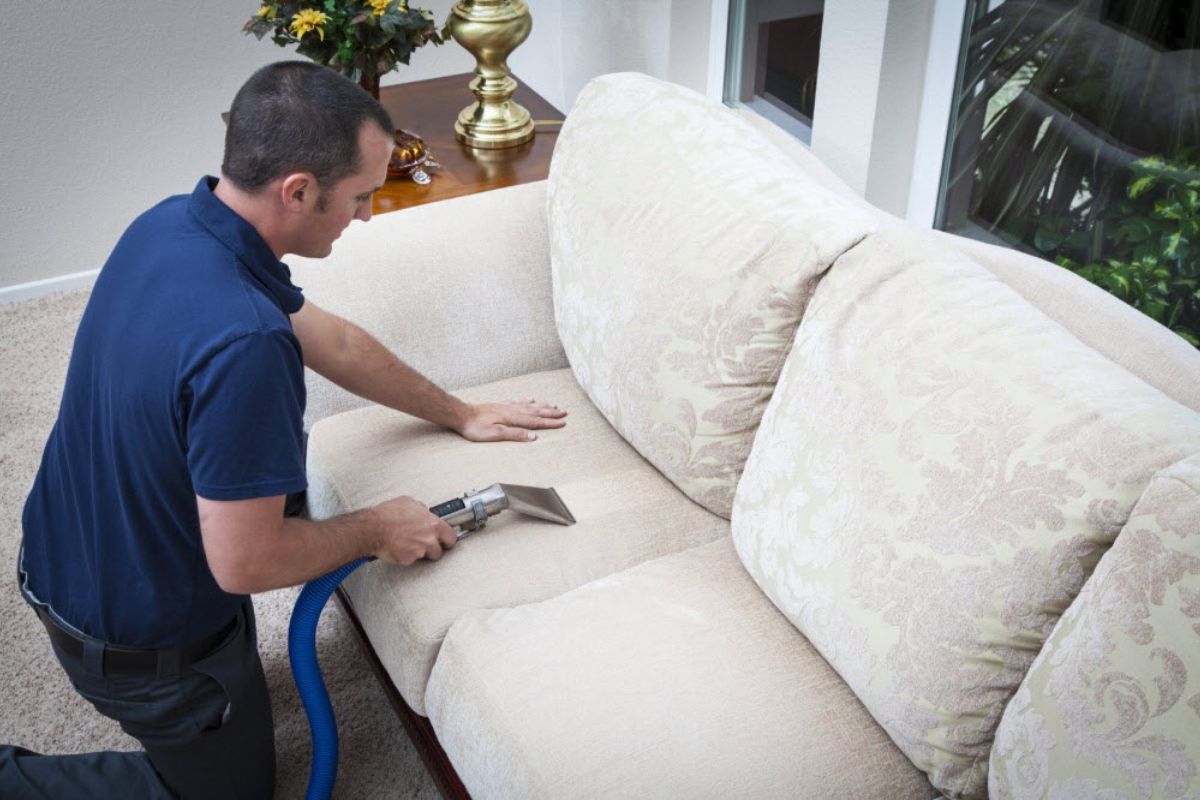 Occasionally calling in professional carpet and upholstery cleaning services remains unavoidable even if you do-it-yourself weekly spot-cleaning because there ultimately comes a time when Do-It-Yourself maintenance options must be revised. Your furniture may be too big or heavily soiled and stained, resulting in admissible damage to household-grade equipment.
Therefore always stay mindful about what upholstery upkeep looks readily achievable by oneself vs needing pro-interference; don't wait until costly damages rack up before seeking external expert help.
Mistake 2: Applying Too Much Pressure while Brushing or Scrubbing Upholstery Fabric Surface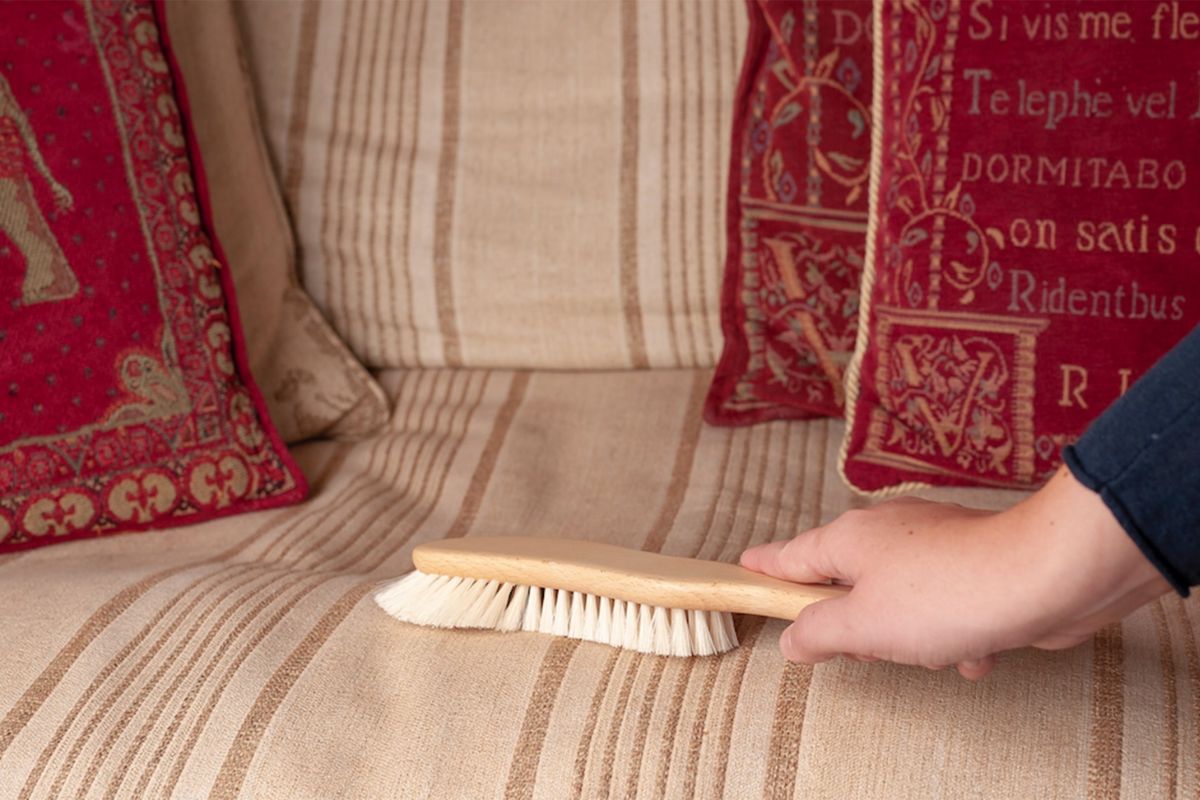 Washing upholstered sofas doesn't mean applying gravity-defying pressure with rough-bristled brushes to the cover materials' surface Fabric! Doing this, beginners may dislodge fabric seams or thread them apart before even knowing it and subsequently cause unanticipated tears.
A better method is applying a soft brush while light suctioning out of grime using an upholstery cleaner vacuum, With brush bristles taking care of evenly spread pressure that doesn't tug on delicate fabric threads but is gentle enough to get rid of embedded soil contaminants.
Mistake 3: Not Rinsing or Drying Upholstery Thoroughly
The endgame for all spontaneous upholstery deep-cleaning projects is final touches like rinsing out each fold entirely before drying. It helps in cleaning off residual cleaner residue that can make furnishings look dingy if left behind after all the hard work you dedicated!
This extra step also guarantees thorough drying, which means no potential hazards for mildew and mould issues crippling your family's health further. So, Save yourself some hassle: Rinse off loose dirt first – then proceed to wet down furniture covers gently misted with water – rather than jet-streams deal! 
Final Thoughts
So there you go – those are all the crucial tips and common mistakes to watch out for when cleaning your furniture upholstery thoroughly. Remember to vacuum properly beforehand, spot-test everything new with small tests & avoiding over-wetting at all costs while sticking to appropriate cleansers only!! Remember, making DIY mistakes isn't just annoying – it could eventually become costly repairs down the line – hence calling in external help might come necessary (at times) despite being reluctant to do so yourself!