Black Friday comes with amazing deals and sometimes an uncertainty of what to get exactly. But one thing is certain: you want to give your partner a gift they will love and use, something that considers their interests and needs and shows how much you care.
That's why the KBO e-bike is the perfect gift for your partner. E-bikes are becoming more popular, and it is because they're fun, good for your health, and environmentally friendly. E-bike riding is a great way to exercise, improve cardiovascular health, and strengthen muscles and bones. It's also a low-impact activity, making it accessible to people of all fitness levels.
E-bikes make getting out and enjoying the outdoors easy. You can go on bike tours, explore new places, or enjoy a leisurely ride around the neighborhood. E-bikes also make it possible to cover longer distances, so you can explore more places and create lasting memories together. This Black Friday, gift your partner an e-bike from KBO. It's a gift they will love and use for years.
Health and Well-Being
Cycling is a great way to improve one's overall health and well-being. It is a low-impact activity suitable for people of all fitness levels. E-bike riding can help to improve cardiovascular health, strengthen muscles and bones, and reduce stress. E-bike riding has been shown to impact mental health and general well-being positively. It can help to reduce stress, anxiety, and depression.
In addition to this, you also get to spend time with your partner. You can go on bike tours together, visit tourist sites, or go on bike trails. With an e-bike, you can quickly bond with your partner and share the joy of movement.
Common Experiences and Adventures
An e-bike makes it easy to get out and enjoy the outdoors together. You can go on bike tours and enjoy other outdoor activities. It makes it possible to cover longer distances without getting tired of cycling and allows you to create lasting memories together.
Exploring New Places and Creating Common Memories
With an e-bike, you and your partner can reach difficulties or impossible on foot or by car. You can ride your e-bikes to hidden coves, remote mountain trails, or a new town park.
E-bike riding is also great for discovering nature and landscapes with your partner. You can ride through the woods, the smell of autumn rains, or even through snow, thanks to the fat tire e-bike.
Environmental Friendliness and Sustainability
E-bikes produce zero emissions, making them a much more environmentally friendly mode of transportation than conventional vehicles, which produce tailpipe emissions contributing to air pollution and climate change. E-bikes also help to reduce traffic congestion, which further improves air quality.
Opportunity to Contribute to Environmental Protection Together
When you and your partner choose to ride e-bikes, you contribute to environmental protection. You are reducing your carbon footprint and helping to create a more sustainable future.
Reduction of CO2 Emissions and the Promotion of a Sustainable Lifestyle
E-bikes can help to reduce CO2 emissions by up to 80% compared to conventional vehicles. This significant reduction can make a real difference in the fight against climate change.
Practical Aspects and Convenience
E-bikes give many practical advantages, such as the ability to cover short distances quickly and easily. E-bikes also help you avoid traffic congestion and reach your destination on time. They are also relatively easy to handle and park, making commuting to work or running errands convenient.
Flexibility and Independence
You also get a great deal of flexibility and independence. You can ride your e-bike whenever and wherever you want without relying on public transportation or carpooling. With your KBO e-bike, you can get around areas with limited parking or public transportation.
Simple Handling and Maintenance of KBO-E-bikes
KBO e-bikes are known for their simple handling and maintenance. They have various user-friendly features, such as easy-to-use controls and a comfortable riding position. KBO e-bikes are also relatively low-maintenance, so you can spend less time worrying about repairs and more time enjoying your e-bike.
You also enjoy a powerful peak 750w brushless geared hub motor to easily handle hills and other tough roads. KBO e-bikes have long battery ranges so that you can enjoy up to 55 miles on a single charge. There is also an array of accessories, such as baskets and racks, making them even more convenient.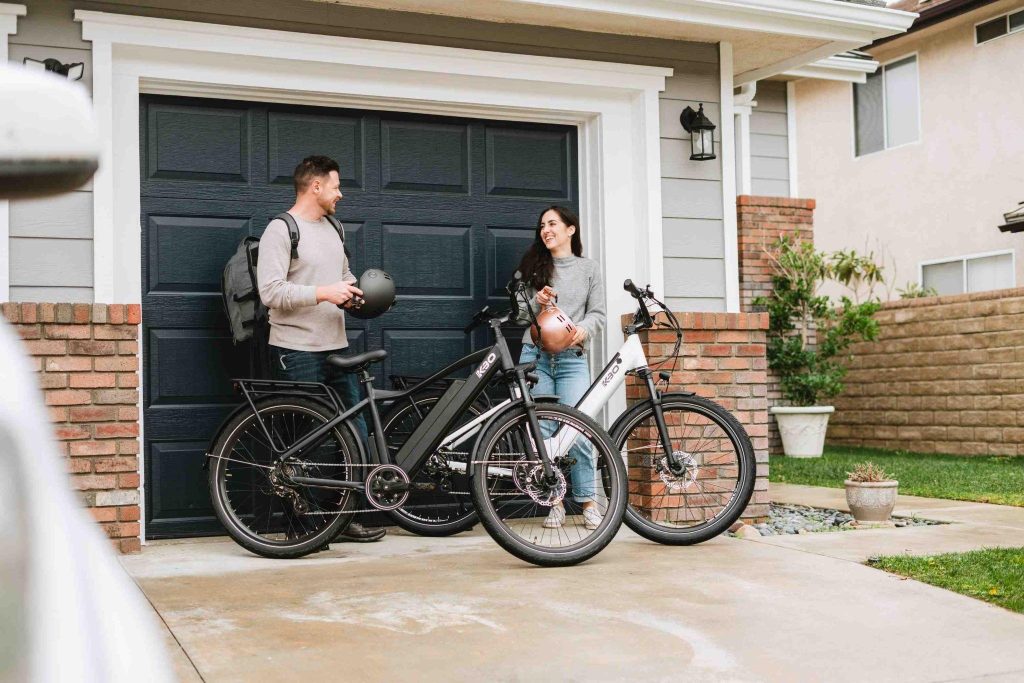 Technology and Innovation
Modern e-bikes like the Commuter Electric Bike KBO Breeze have advanced functions and technologies. For example, some e-bikes have built-in GPS navigation systems, smartphone connectivity, and even anti-theft features. You can connect your e-bike to your smartphones or GPS navigation systems. This makes it easy to use your smartphone to track your rides and check your speed and distance.
Reliability and Quality of KBO-E-bikes
KBO e-bikes are known for their reliability and quality. These e-bikes are built with high-quality components and are backed by a strong warranty. KBO e-bikes have various safety features, such as bright headlights, taillights, and powerful brakes. KBO has a dedicated customer support team that is available to help you with any questions or problems you may have.
Personal Style and Individuality
KBO e-bikes come in various models and designs to suit your taste. Whether you want a sporty e-bike, a stylish e-bike, or a practical e-bike for carrying cargo, there is a perfect KBO e-bike for your partner. There are also accessories that you can customize to suit what you and your partner need. Saddles can be customized for a more comfortable ride. You can also add luggage racks to carry groceries or other gear. Fenders can be added to your e-bike to keep you and your clothes clean from mud and water.
KBO e-bikes are available in a variety of colors and styles to choose from, so you can find the perfect e-bike to match your partner's personality.
KBO as a Trustworthy Brand
KBO has been in business for several years, producing reliable, durablGiftIdease, and innovative e-bikes. With positive customer reviews worldwide, you can rest assured that KBO will offer you the best. Their customers appreciate the reliability, durability, and performance of KBO e-bikes. They also appreciate the variety of models and designs and the excellent customer service provided by KBO.
You can check out the KBO website, as it is an excellent resource for learning more about the available e-bike models. The website also has a wealth of information about e-bikes, including how to choose the right e-bike, maintain your e-bike, and ride an e-bike safely.
Conclusion
Put a smile on your partner's face with a KBO electric bike. And the KBO Black Friday sale starts TODAY and lasts until November 30th. During this time, Up to $1000 OFF. With some planning, you can choose the perfect e-bike as a gift for your partner. KBO e-bikes are the perfect way to show your partner how much you care. Whether your partner is looking for a sporty e-bike, a stylish e-bike, or a practical e-bike for carrying cargo, there is a KBO e-bike out there that is perfect for them.