Blake Shelton and Gwen Stefani initially crossed paths in 2014 while Blake was a coach on The Voice. They later were married over the Fourth of July holiday in 2021. Here is a timeline of how they met.
When season 7 of The Voice began filming in April 2014, the couple got acquainted while mentoring candidates on the show.
Both were still married to their former partners at the time. Shelton was married to Miranda Lambert, a fellow country singer, while Stefani was wed to rocker Gavin Rossdale.
On November 25, 2014, while they were both on The Voice set, Stefani shared their first photo with the simple message, "he @blakeshelton @nbcthevoice gx."
When they each experienced their heartbreaks in the summer of 2015, the coworkers quickly became confidants. Shelton and Lambert got divorced in July, and Stefani and Rossdale broke up in August.
Stefani claimed to have "gone white" when Shelton told the Voice team in July 2015 that he had broken up with Lambert, as she disclosed to Howard Stern in July 2016.
"I felt like he was exposing me, so I was shocked. When Shelton first revealed the information, Stefani said, "I just couldn't even put my brain around it. "I didn't want anyone to be aware of what was happening to me… Nobody knew except for my parents and certainly, everyone involved that I was carrying this enormous weight.
After that, Stefani began to talk to Shelton about her divorce. "At that point, he approached my chair… He has never appeared so upset to me. I was then like, "I have to talk to you."
"It's unbelievable that God would put us in a position to have each other at that moment, in that exact moment," Stefani continued. Additionally, she added that she "wasn't trying to start a relationship," and that it just so happened.
How Blake Shelton and Gwen Stefani started dating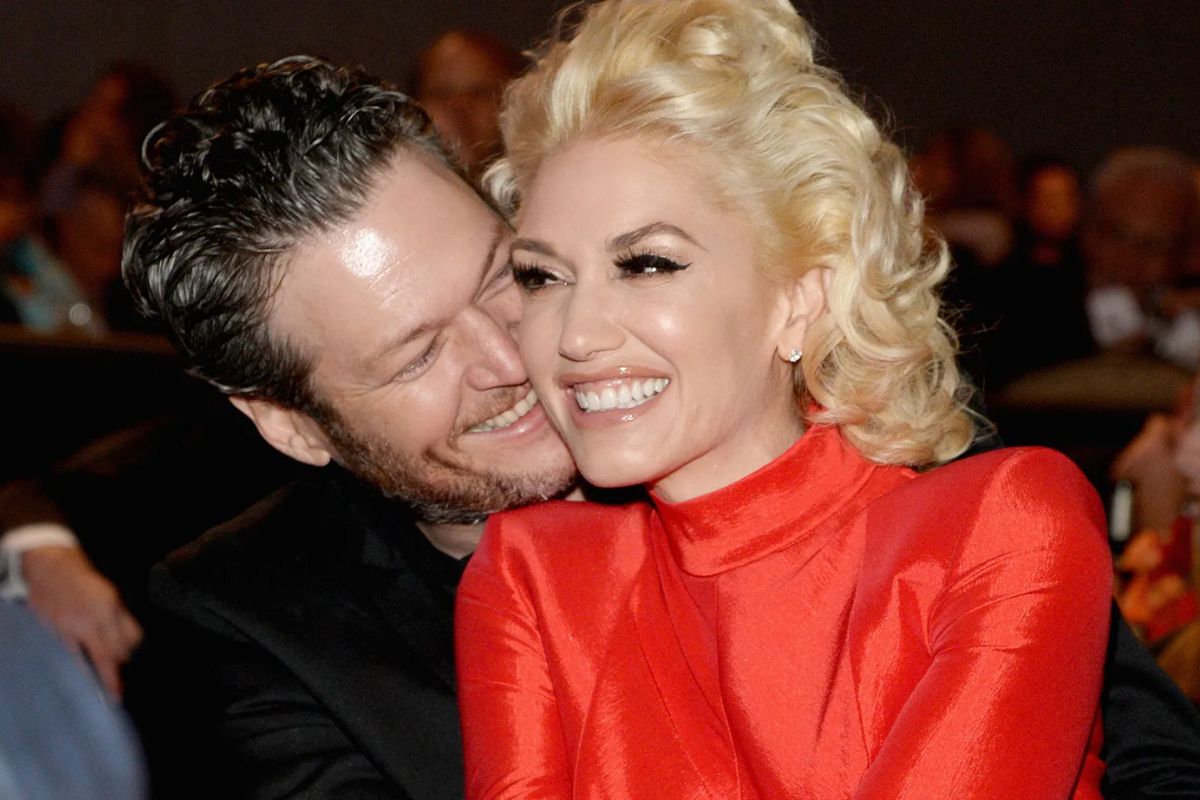 Shortly after, a source verified exclusively to PEOPLE that the couple had begun dating. A spokesperson for Shelton also confirmed the relationship to PEOPLE after the couple's Halloween weekend outing that year sparked rumors about their relationship.
An informant announced that "Blake Shelton and Gwen Stefani have started dating." "They're really happy together and have been supporting each other through a tough time."
The insider continued, "Everyone is pleased since they're both such wonderful people.
Speaking about "ride or die,"
Shelton, an Oklahoma native, purchased horses for Stefani and himself and told Entertainment Tonight that Stefani "loves horses and she loves riding. The fact that people are so astonished by that is pretty humorous, but There is not a single girl on the earth who doesn't.
At the Vanity Fair Oscar Party, the couple made their red carpet debut.
Another guest at the event told PEOPLE, "They acted like giddy teenagers at a high school dance." "They stayed by one other's sides the entire night while holding hands. I don't believe either of them ever stopped grinning while they were there.
Shelton told PEOPLE that Stefani was responsible for persuading him to accept the title after he was elected PEOPLE's Sexiest Man Alive. She says, "Listen to me, if you don't take this gift and just live in the moment, you're going to regret this for the rest of your life," according to Shelton.
Blake Shelton and Gwen Stefani are "currently madly in love"
Blake Shelton and Gwen Stefani are still deeply in love and practically inseparable, a source told PEOPLE. Although Blake had intended to take his time getting married, he is utterly dedicated to Gwen. They both believe they have found their ideal life partner, and they intend to stay together forever.
"He continues to believe he is extremely fortunate because she wants to spend time with him and thinks she is the most beautiful woman in the world," the person continued.
They debuted the song "Nobody But You" on Shelton's 2019 album Fully Loaded: God's Country and it appeared to be entirely about their relationship.
When Shelton and Stefani played their love song live at the 2020 Grammy Awards, it became the first of theirs to reach No. 1 on the Billboard Country chart.
Speaking about serving as a role model for Gwen Stefani's sons, Blake Shelton
For Stefani's sons Apollo Bowie Flynn, Zuma Nesta Rock, and Kingston James McGregor, Shelton has taken on the role of a father. On July 24, 2020, Shelton said in an interview with Today that he was juggling his role as their buddy with his function as a role model.
It's one thing for me to be with the kids constantly and be their friend, but you do have to take into account after a while that they start to listen to things that aren't good for them.
Instagram pictures from Blake Shelton and Gwen Stefani commemorate their second wedding anniversary.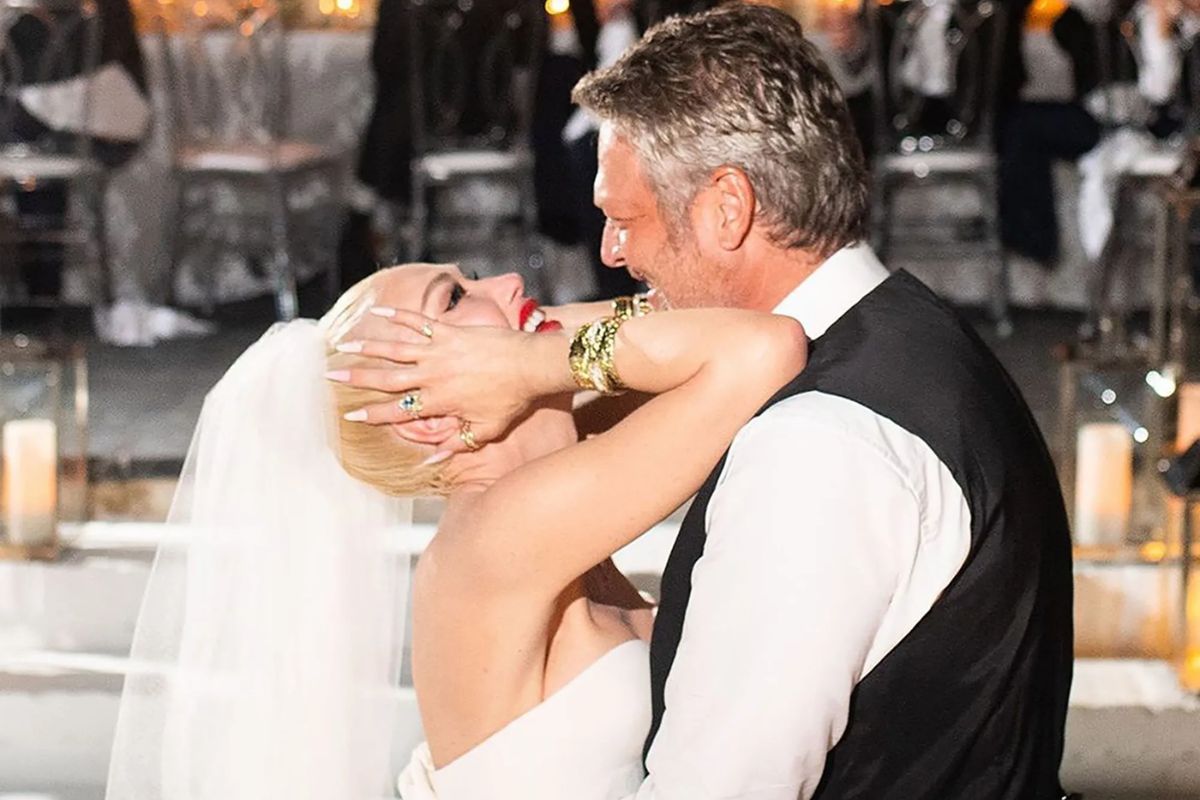 On July 3rd, 2021, Blake Shelton and Gwen Stefani eventually got married. Stefani shared a video montage of images and videos of the couple over the years on Instagram to mark her second wedding anniversary with Shelton.
The video, which is synchronised to Gwen Stefani's song "True Babe," shows the couple coming into the Grand Ole Opry, entering their ceremony, and sharing a kiss.
Shelton celebrated the occasion by sharing a picture of the happy couple kissing in front of their wedding cake on Instagram. "Congratulations, @gwenstefani! Since I met you, every day has been the happiest day ever," he stated in the post.