Motorcycle jackets have been in fashion for a while now. They give you a classy and trendy look, considering their appeal. The problem is, how do you pull off such a fantastic outfit?
Below are some tips to help you rock a leather jacket.
Always Go for Quality
One way to boldly wear any clothing item is to buy genuine brands and materials. Keen people can always tell when you are wearing a high-quality men's motorcycle jacket, and you don't have to doubt it or worry that it will seem cheap.
If you want to feel comfortable while wearing leather, always insist on quality, even if it means paying more. You walk around knowing you have genuine leather on, not the PU version that some stores sell.
What's Your Style?
Fashion enthusiasts will tell you they are most confident wearing comfortable clothes. Men's motorcycle jackets come in various styles, and your best bet is to buy the one that suits your personality, that way, you can effortlessly exude confidence.
Others prefer wearing their jackets in a simple style, pairing them with a T-shirt and jeans. Alternatively, if you are daring, there are several other ways to rock your jacket, depending on the occasion and style.
Two of the most popular styles are motocross and the bomber, and you can decide which category suits you more. The motocross comes in a tight fit, ideal for slim or athletic wearers whose chests are more prominent than their midsections.
Conversely, the bomber is a more casual alternative with a thick lining inside, making it suitable for the cold weather. Besides these two, there are various other styles to choose from, but the goal is to find which jacket makes you feel more comfortable.
Wear the Proper Jacket Length
Besides finding the right fit, the jacket's length is another critical factor. The conventional men's motorcycle jackets you will see others wearing are designs whose hem lies on the waist.
If you don't want to go wrong and want to feel like a cool bike rider, those are the jackets to go for. The general rule is that your belt should show when zipped up, meaning it should hang loose around your waist when open.
If the hem is higher and snugly fits on your waist, it looks more stylish, but anything falling below and hanging around the hips gives off an outdoorsy feel and is ideal for people working in harsh environments.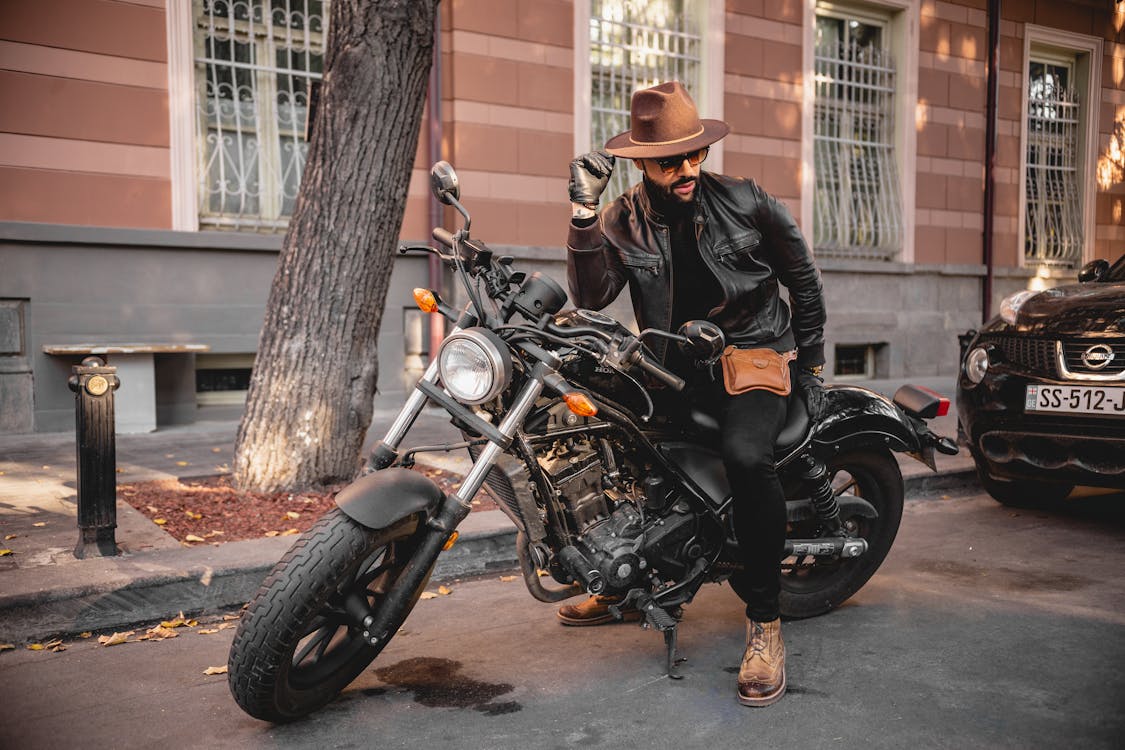 Pay Attention To the Closure
Each wearer has a preference of how they want their jackets to close, zippers or buttons. It influences the overall look of the jacket, and some find one option more attractive than the other.
Some think zippers are more stylish and feel more confident wearing such jackets, and the advantage is that they are easy to use. However, others incline to jackets with buttons because they can pop off in case of a strain on the leather, unlike how the zipper tears away.
Be Careful With the Color Choice
Your color choices tell a lot about your style and personality, and you should be keen when selecting your men's motorcycle jacket. You will feel bold if you wear a shade that feels like you, not only because it looks great on other people.
The standard colors you will find in stores are black and brown, and most love that they are versatile and easy to pair with other clothes. Whichever you go for, the key to wearing leather confidently is to match it right.
You can always try to pair the leather jacket with the perfect shoes and belt. Some fashion-forward wearers can experiment with brighter colored options and pull off the look, but it is pretty risky. They are the least versatile colors because you have to tone them down with other clothes, or you may ruin the whole outfit.
Find the Right Fitting
Men's motorcycle jackets come in various sizes, perfect for each wearer. If you want to wear leather or any other clothing item and not doubt yourself, always pick the best fit yourself. Jackets look amazing but only if you find your size.
It is a vital consideration to make, and you should check the shoulders and its reach before buying it; otherwise, it may be too tight or baggy. A trim fitting can show how stiff it is, and it will be too constrictive unless you try stretching it to your size.
On the other hand, a bulky version looks too ill-fitting and takes away the point of wearing leather. The perfect fit must reach your waistline, the sleeves should touch your wrists, and it should be snug on the shoulders.
Do You Want To Look Cool?
If you want to look confident with a motorcycle jacket, the secret is to be comfortable wearing it. Match the other clothes correctly and wear high-quality leather from reputable stores, and you will be good to go. Above all, don't worry too much about what people think and wear it if you feel great in it.