Fashion is an art form that allows us to express our unique personalities and creativity, and among the myriad of accessories available, boho scarves have emerged as versatile and timeless pieces that can effortlessly elevate any outfit. 
This blog post will delve into boho scarves and explore ten trendy ways to style them for various occasions. Whether attending a casual gathering or a formal event, these styling tips will help you make a fashion statement that reflects your individuality.
Why should you own a Boho scarf?
A boho scarf is an excellent addition to your outfit if you want an eccentric lifestyle and culture look. They are usually made from delicate and breathable fabrics, which makes them comfortable year-round wear, bringing a touch of free-spiritedness to your wardrobe for more outfit options to express your personality.
Boho scarves are versatile accessories that can be draped, wrapped, or tied in countless ways to achieve a unique look for various occasions. You can add a pop of color to a monochromatic outfit or infuse a touch of artistic flair into a sophisticated ensemble, it's the perfect accessory to carry out your desired style, whether you prefer a bohemian, eclectic, or even a minimalist aesthetic. 
10 Styles of Boho Scarves for Any Occasion
Boho scarves add a bohemian flair to your outfits and serve as handy pieces that can be styled in numerous ways. Let's explore each style in more detail:
1. The Classic Wrap
Tune a shorter boho scarf around your waist as a belt. This style adds a unique and bohemian twist to a basic dress or jumpsuit, defining your waistline and creating an eye-catching focal point. A simple way to elevate your outfit with a touch of boho charm.
2. The Belted Boho
Take a shorter boho scarf and tie it around your waist as a belt. This style adds a unique and bohemian twist to a basic dress or jumpsuit, defining your waistline and creating an eye-catching focal point. It accentuates your figure while infusing a bohemian vibe into your overall look.
3. The Headscarf
Tie a boho scarf around your head as a headband or turban. This keeps your hair in place and adds a touch of retro-inspired charm to your overall look, showing your inner bohemian queen. A versatile style that can be worn with both casual and dressier outfits, adding a playful and stylish element.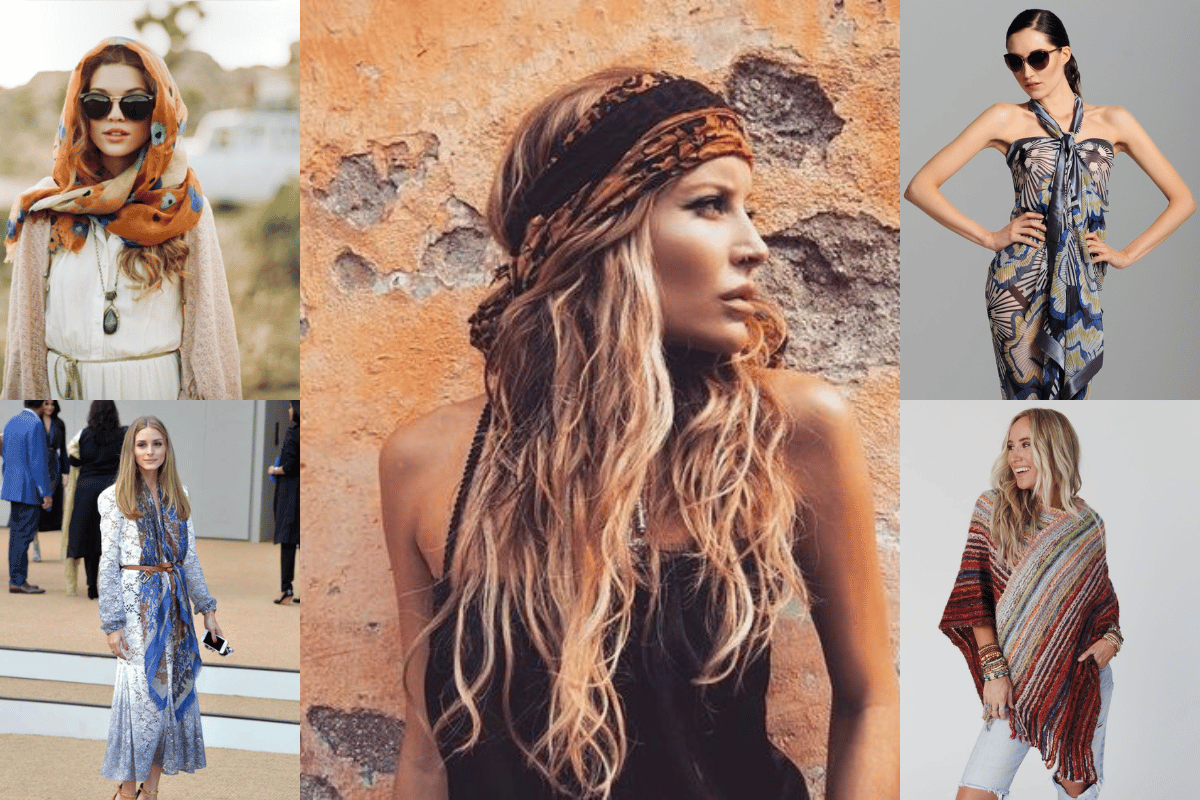 4. The Beach Cover-Up
Tie your boho scarf around your waist or wrap it over your shoulders. This effortless and bohemian-inspired look is perfect for strolling along the shore or lounging by the pool on a sunny day, making it a stylish cover-up.
5. The Boho Poncho
Create a triangle shape by folding a large boho scarf in half diagonally. Drape it over your shoulders and secure it with a brooch or tie the ends together. This style transforms your scarf into a chic and bohemian poncho, ideal for cooler evenings or outdoor festivals. It adds a layer of sophistication and warmth to your outfit while making a bold fashion statement.
6. The Statement Bag
Give your handbag a boho makeover by tying a boho scarf around the handles or attaching it as a decorative accessory. This simple addition instantly adds a touch of bohemian charm and personalization to your bag. A creative way to showcase your unique style and make your handbag stand out.
7. The Bracelet Wrap
Wrap a thin boho scarf around your wrist several times, tying it into a knot or bow. This creative style turns your scarf into a unique and eye-catching bracelet, adding a bohemian accent to your overall ensemble. It's a subtle yet stylish way to incorporate boho elements into your outfit.
8. The Ankle Wrap
Add a boho touch to your footwear by tying a boho scarf around your ankle as an anklet. This style works well with sandals or ankle boots, instantly elevating your shoe game with bohemian flair. Small but impactful detail that adds a touch of whimsy and individuality to your look.
9. The Waist Wrap
Experiment with a boho scarf by tying it around your waist as a skirt or sarong. This versatile style allows you to create a bohemian-inspired beach cover-up or a flowy skirt to pair with a crop top or bikini. It adds a sense of playfulness and femininity to your outfit, perfect for summer adventures or tropical getaways.
10. The Shawl Wrap
Drape a large boho scarf over your shoulders as a wrap or shawl. This style keeps you warm and adds a bohemian and sophisticated touch to your outerwear, whether you're wearing a coat, blazer, or sweater in cooler weather.
Different Styles, just with a Boho scarf
Boho scarves are undoubtedly a fashion staple that adds versatility, elegance, and a touch of bohemian flair to any outfit. From classic wraps to creative anklets, the possibilities for styling boho scarves are endless. By experimenting with these ten trendy styling ideas, you will discover your boho scarf style and make a fashion statement that reflects your unique personality.
Owning a collection of boho scarves gives you a go-to accessory that effortlessly enhances your ensemble for any occasion. With our expertise, we recommend selecting scarves in various colors, patterns, and textures to complement your existing wardrobe and provide ample styling options.
So, embrace your inner bohemian spirit, explore different fabrics, patterns, and colors, and unleash your creativity to create memorable and stylish looks with boho scarves. Get ready to turn heads and emanate confidence as you embrace the bohemian lifestyle through fashion.