Personal style should not be universal. Personal style should always be based on what suits or fits you the best. Trends may come and go, but your personal style should always make a statement about your personality. And your wedding, which is the most prominent event in your life, should be a reflection of you and your personal style in every possible way – right from the wedding theme, the wedding décor and food to your gorgeous wedding look. While there may be hundreds of wedding ideas to customize your wedding according to your style, we talk about the 10 most interesting and unique ones in this article to help you prepare for your D-Day. These latest ideas would not only make your wedding unique but would also make it memorable for the rest of your life. So, before you finally tie the knot, check out the wedding ideas listed below and find out which one best fits your personal style. 
The Latest Wedding Ideas
Dance Competition – groom's family vs. bride's family
The very mention of this idea creates the same level of thrill as the Bollywood movie, 'Any Body Can Dance' (Aka ABCD). What an exciting event this could be with the groom's cousin b-boying on the stage or the bride's chachu rolling his waist to the beats of some old Bollywood chartbusters. Just imagine the scene. The idea is simply going to rock. Just make sure that the judges for the event are neutral and that they don't belong to any of the two families. 
Set up an Anti-gravity Photo Booth
Have you heard about the anti-gravity photo booth? If not, talk to your wedding planner. It is the latest favourite with couples at Indian weddings in big cities. These quirky photo booths come with 3D room-like walls, props and installations that make you look like you are floating in space during the clicking of the photographs. The designs of the photo booth can be customised according to the theme of your wedding, and specific furniture can be put in to enhance the experience. Give your guests something unique and unforgettable at your wedding with this latest tech-based wedding ideas. 
Understood that as a couple you deserve the right to get all the attention on your wedding day, but your close friends and relatives dress up for the occasion too. Like you, it's a big day for them as well. So, plan something special for them. Organise a fashion show and ask your friends and relatives to take part in the event. Don't exclude children and senior citizens. Let everybody participate in the show. Prepare the stage. Arrange for the music and make the event look as real as possible. You can also arrange a couple of rehearsal sessions for the participants. 
Feature your guests on Magazine Covers  
No matter how established people are in their lives, everyone has a hidden desire of being featured in a newspaper, a magazine or a book at least once in their lifetime. After all, everyone likes to be recognised and respected. So, let your wedding be the perfect platform for your invitees to earn that recognition or at least look like one. Get portrait photographs of your invitees clicked by your wedding photographer and his team, and edit those images on the cover page printouts of renowned world magazines like Forbes or Time. You can frame those images and send them to your invitees' postal addresses by courier. This could also be a memorable return gift for them from you.
This could be a lot of fun if it's a daytime or destination wedding. The game is not new, but the incorporation of the game into your wedding events would be a very interesting idea. Make it even more interesting by turning it into a bout between the bride's and groom's families. Let women participate in the game alongside men as well. Add some spice to it by announcing a prize for the winning team.
Set up a Boomerang Photo Booth 
All the Instagram freaks would surely know what it is. Boomerang booths come with LED ring flashes and take a lot of photos in a very quick time. Your guests can get themselves clicked at these booths and their images could instantly be converted into funny-looking looping GIF videos. They can also get the videos instantly Whatsapped or shared them on their personal social media handles. 
Arrange for Dancing Slippers
Now, this one should be considered a social service for all those ladies in the high-heels. It's a crime to keep your female gang out of the stage during those zesty live music or DJ. So, do them a favour. Keep a box of slippers of various sizes ready for them, so that your heely friends don't miss out on dancing at your wedding. 
Let your wedding be the event that all your invitees can enjoy. Request them to participate in different activities. Make your wedding memorable for each one of them by letting them have a say in the live music or DJ being played. Keep a music request box and encourage them to write down on pieces of paper the names of the songs they would like to hear live from artists and put them in the drop box. They would really love it when their favourite songs would be played live on stage by the artists. Make the event even more interesting by announcing a vintage Bollywood theme for the live music performance. 
Arrange a carnival-like setup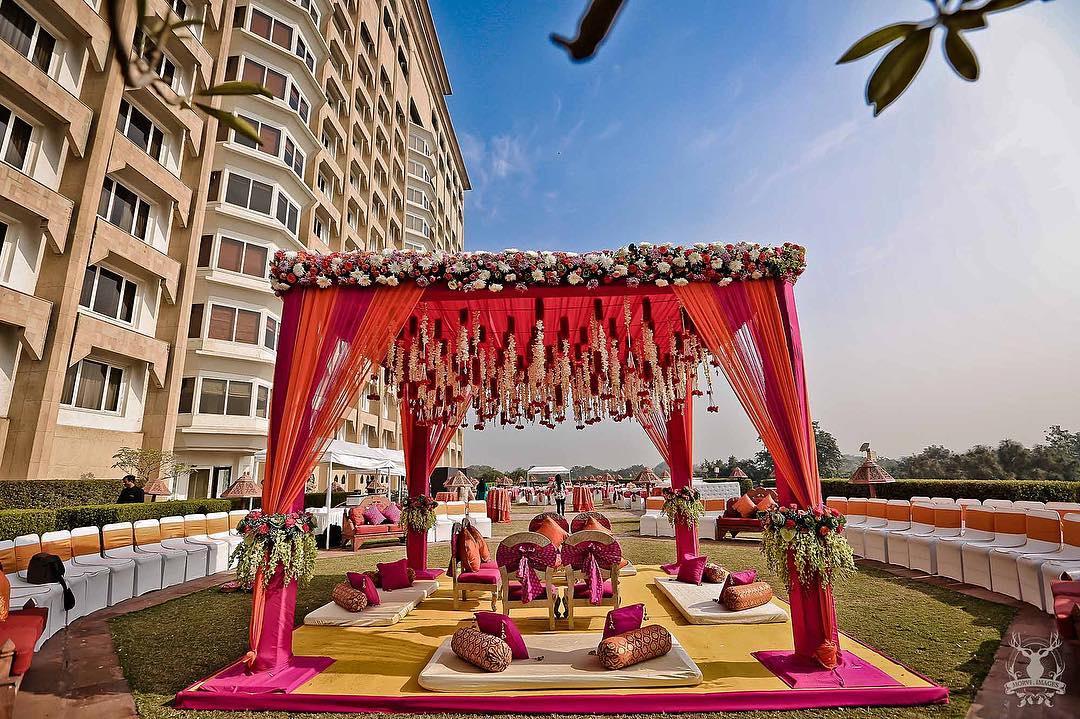 Arrange a carnival-like set-up on the outdoor lawn. And apart from the regular mocktails carts or food stalls, set up counters for live nail art and mehndi, so that your guests can get themselves pampered. Ensuring the quality of the products and girls present at your wedding would throng the counters for sure.
Get funny, intelligent and double-meaning quotes printed on placards, place them all across the venue and use them to entertain guests and relatives during traditional wedding games like joota churai or ring fishing. You can also add funny cartoons to the placards to make things more hilarious.
Conclusion 
There are hundreds of ideas to make your wedding unique and fun-filled for your friends, relatives and guests. However, some of them are very culture-specific and demography-oriented. Going through Christian wedding ideas written for an East-European audience, would not help a North Indian living in Patiala. This article stands apart from the rest because it includes only those wedding ideas that suit the North-Indian traditions. But it has to be understood at the same time, that uncommon and unique wedding ideas are not limited to the ones mentioned above. There could be many more. This article provides a glimpse at the exciting bunch of those newest wedding ideas.