Looking for the chicest and coolest fashion trends? Korean Street Fashion fashion will surely rank at the top of the list. Thanks to the cutting-edge fashion, affordability, and its ability to suit the streets. The influence of k-pop stars and Instagram influencers in shaping Korean fashion and helping in gaining popularity across the globe cannot be overlooked. Korean fashion is undeniably gaining a global spotlight. The fashionable youth are catching the world's interest largely with their street-style fashion and urban style. Leaving the fashion capital, Seoul aside. A walk through the university districts or Hongdae and you will be graced with K-razy, K-ool k-fashion where many people are dressed in their personal style. These districts are coming up big with street fashion and it's taking out the homegrown designers from their corners to the world. With so many styles and types, there is a lot to explore when it comes to Korean street fashion. This article is to let you in on all there is to Korean street fashion and the trendy, cool styles you need to know to nail a great Korean outfit. 
What is it about Korean Street Fashion?
Koreans love to look good and this is prevalent in their styles and fashion. Fashion to them is who you are, and what you want others to think of you. Korean street fashion is also sometimes called Hongdae street fashion with the popular sub-styles ones referred to as Hongdae, Ewha street fashion, and vintage street fashion. 
It is referred to as Korean street fashion because it is exactly what it means. Fashion is mostly influenced by the street and not by popular fashion runaways or studios. It is a more casual, cool, and comfortable look that is highly cool and comfy to wear and walk the street.  That is why it is mostly associated with youth culture and is mostly found in urban areas. 
Hongdae Street Fashion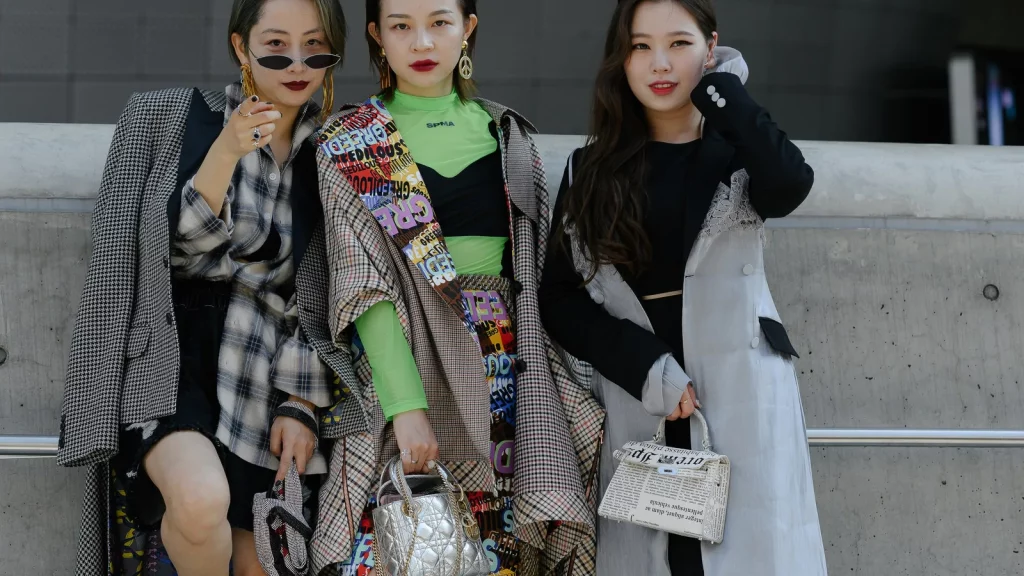 Hongdae is one of the trendiest neighborhoods in Seoul and it's not surprising it has a huge influence on Korean fashion style. And if you are looking for the heart of parties and rocky nightlife, Hongdae is the number one-stop-shop. Hence, fashion is greatly inspired by University life, the vibrant party lifestyle, and more. Fashion is predominantly an oversized top that matches with oversized trousers or joggers. You will also notice Korean street fashion men with big tops and fit pants or shorts. Big sneakers, hoodies, and unisex clothing are the ones rocking the streets. 
Ehwa Street Fashion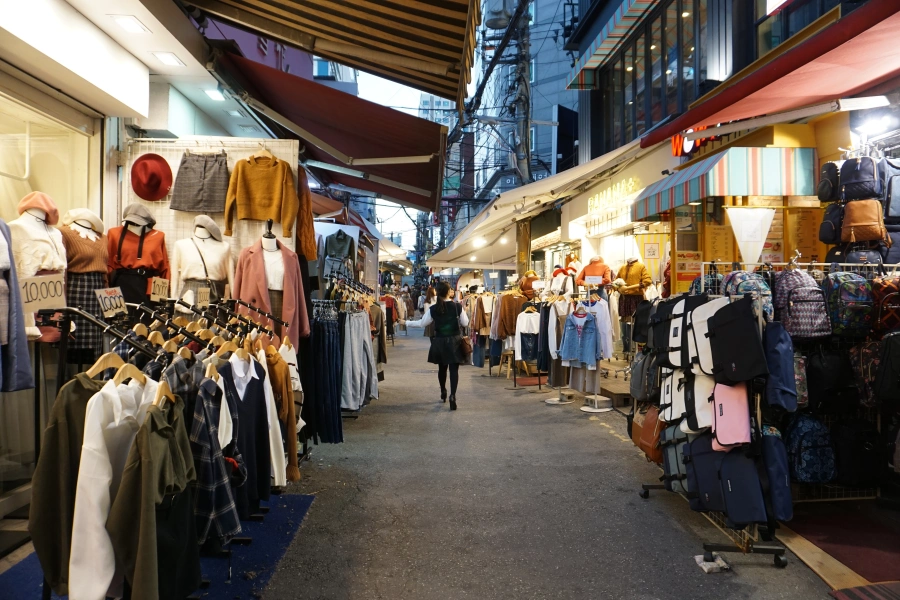 Ewha Woman's University fashion street is a popular shopping area around Ewha Woman's University. So, of course, it is characterized by girly, soft women's looks. Youthful, sweet, and feminine fashion is the highlight of the street. However, there are still loose clothes as well. Think of oversized sweaters over skinny jeans or dresses matched with oversized sweaters. The colors and fittings as well tend to show off feminine elegance. 
Vintage/Retro Street Fashion
Here is one that can be named fashion has no age. It's more like a comeback of the 90's style. By this, we mean vintage prints, bold colors, and bold cuts. Hip hop is also a thing in street fashion, thanks to the hip hop favorites artists that are influencing the Gen Zs styles. 
Popular Korean Men's Street Fashion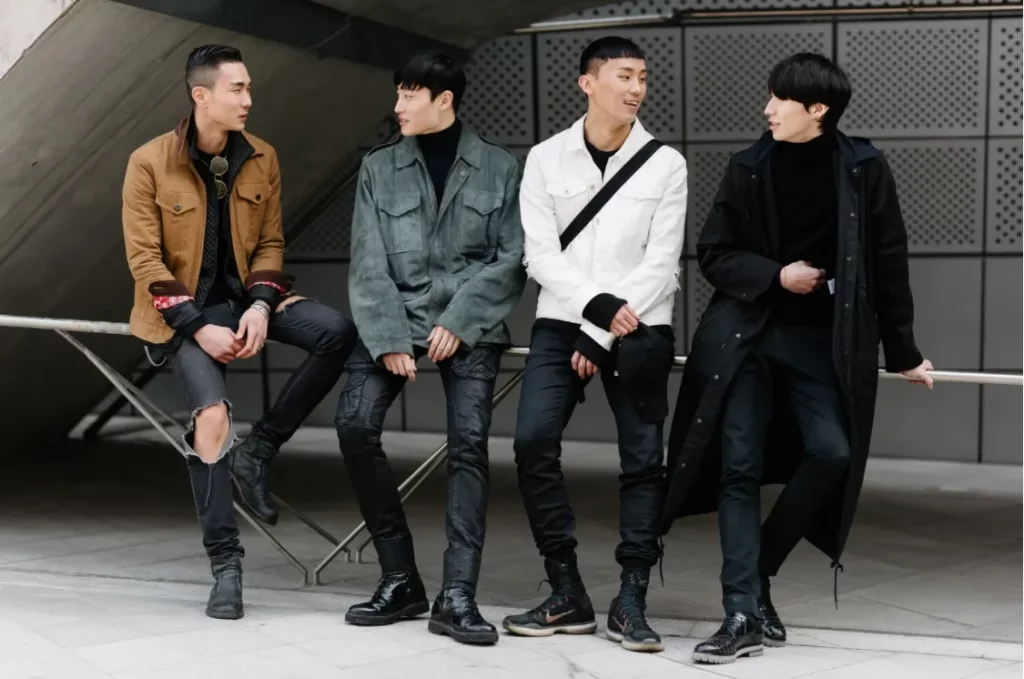 Let's explore some of the popular Korean street fashion men:
Oversized Clothing
Baggy clothing has become a staple in Korean fashion. There are a lot of jerseys, baggy jeans, pants, and big shirts flooding the streets of Korea. The oversized t-shirts can also be paired with tight-fitting jeans or pants for a casual yet chic look. This clothing is minimal, comfortable, and exquisite. 
Street Formal
Street formal is a mix of "street" that is casual and formal. As much as that might sound contradicting, Koreans are changing the game in how they match it up for a cool yet classy look. If you want a simple, chic out without feeling overdressed, pair up a t-shirt with a blazer on top. Or an ankle- length pants with a sweatshirt to transform your overly formal clothes for a casual occasion. 
Minimal
Minimal clothing has always been part of Korean fashion with no sign of ever going down. It's sophisticated, simple, and overall beautiful. It generally consists of basic colors like brown, grey, black, white, and other muted colors. If you desire a comfy, fashionable look, hop in on this popular minimalist Rader. 
Accessories
Taking the fashion game to another level with accessories is another thing in men's street fashion wear. There are a lot of accessories and there will always be something to match your personality and look. Scarves are popular, especially during the cold winter months. Bucket hats, cufflinks, and glasses are also in vogue. Whatever your choice, pick out accessories to match your street look. 
Popular Korean Women's Street Fashion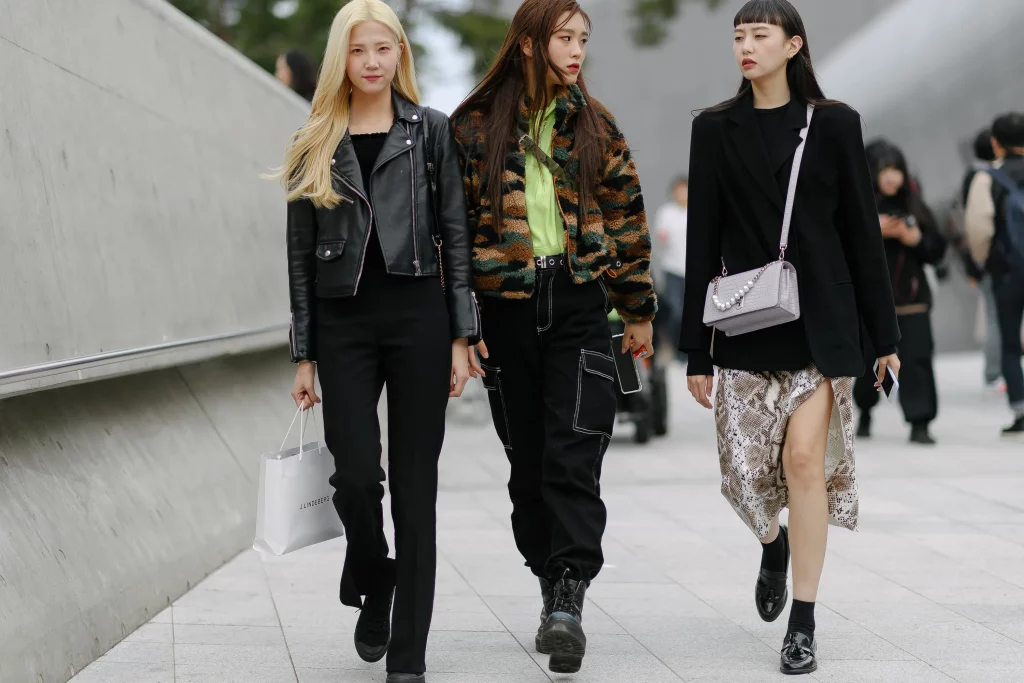 For Korean street girl fashion, here are the popular ones you need to know:
Oversized Clothing
We can't talk of Korean fashion without mentioning the well-loved genderless oversized clothing. Korean men and women loved the comfortable baggy jeans, shirts, and even crop tops. The oversized t-shirts are mostly paired with comfortable pants, skinny jeans, or even skirts. Oversized crop tops are paired with high-waist skirts or baggy pants. Baggy pants as well are mostly worn with a turtle neck or fitted blouses. These styles are effortlessly chic and casual. 
Mini Skirts
Even Pinterest and other popular social media apps are all flooded with Korean popular mini skirts and high-waisted tennis skirts. It's girly, feminine, and elegant. Women are often seen combining it with oversized sweaters, cute tops, or shirts. The look is complete with military boots or sneakers. 
All- White
Koreans are bringing the all-white fashion into the limelight and we are all here for it. Koran Streets and celebrities are beaming with the all-white ensemble for a classy look for a casual evening. White jumpsuits paired with high heels for a sophisticated look or white Jeans with a white crop top for the street. Whether formal, casual, formal, or casual, all white will never fail you. 
Chunky Sneakers
Sneakers have always been in the book of Korean fashion but chunky shoes took the whole fashion to another level. Korean women are often seen pairing it with flared jeans or baggy trousers. The high-heeled effect is a fashion statement that gives an extra touch.