In an era where digital technology reigns supreme, it may seem like the art of photo printing has lost its relevance. However, it's precisely in this digital world that the importance of photo printing has become more pronounced. The physical act of holding a photo, flipping through a photo album, or of decorating a home with framed memories has a unique emotional value and a sense of nostalgia that cannot be replaced by digital galleries.
In a world increasingly dominated by digital technology, you might be mistaken in thinking that the humble art of photo printing has lost its charm. But, in fact, it's the opposite. In this digital age, the significance of photo printing has gained even more ground. We're so used to scrolling through endless digital galleries, that the tactile pleasure of holding a physical photo has taken on a new significance. It's a unique experience that resonates deeply with our emotions and evokes a sense of nostalgia.
Remember the joy of flipping through a photo album, each page revealing another precious memory? The laughter, the tears, the milestones — all captured in time, waiting for you to relive once more. Or consider the warmth that a home adorned with framed photos exudes, each frame telling a different story, each memory adding character to the space.
In a world where everything is going digital, photo printing offers a tangible way to preserve our memories. It's a way to keep our past alive and present, not just in our minds, but also in our hands. The emotional value of printed photos is something that digital galleries can never replicate, no matter how advanced the technology gets.
So, the next time you capture a beautiful sunset, a family gathering, or a special moment, don't just leave it in your digital archives. Print it out, frame it, and let it serve as a constant reminder of that cherished memory. Because in our fast-paced digital world, it's the printed photos that truly keep our memories alive.
Why does Photo Printing Matter?
Photo printing is an art form and a way to express creativity and personal style. It's about selecting the pictures that mean the most to you and presenting them in a way that reflects your personality. Whether it's a beautiful landscape, a candid shot of a loved one, or a momentous occasion, each printed photo tells a story that resonates on a deeply personal level.
Furthermore, printed photos are a great way to decorate your home or office. They add a personal touch to your space, making it feel more homely and inviting. They also make for wonderful, heartfelt gifts that show thought and effort.
In an age where our lives are increasingly stored on hard drives and cloud servers, photo printing offers a refreshing, tactile experience. It reminds us of the beauty in simplicity and the joy of holding a moment in our hands. So, despite the digital age, photo printing still holds its charm and importance, being a cherished tradition that continues to matter.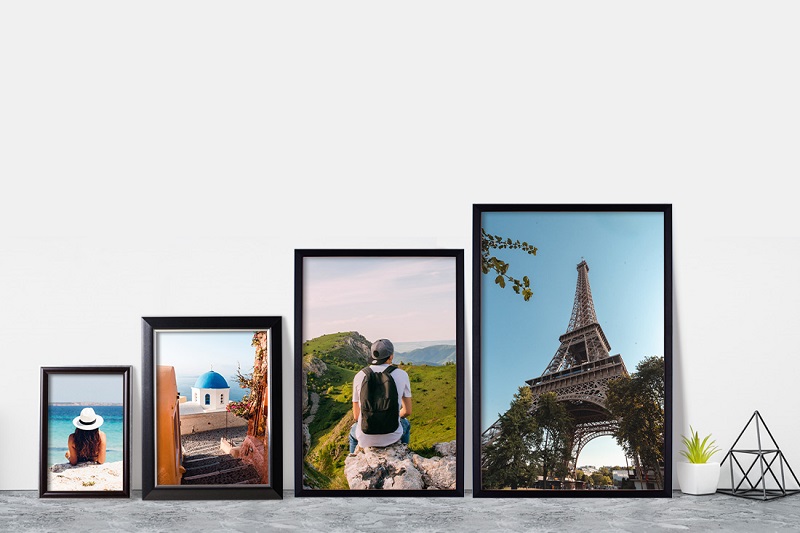 The Emotional Value of Printed Photos:
Photos serve as tangible reminders of the moments we've lived, the places we've been, and the people we've loved. While scrolling through digital pictures can evoke these memories, having a printed photo allows us to touch, feel and connect with those moments on a deeper emotional level. Whether it's a wedding photo, a family portrait, or a snapshot of a memorable vacation, each printed photo carries a story and a significant emotional value.
The Nostalgic Charm of Photo Albums:
There's a certain charm and nostalgia associated with photo albums that digital galleries simply can't replicate. Remember flipping through old family albums during gatherings, laughing at funny childhood pictures, or reminiscing about past holidays? That's the magic of photo albums. They not only preserve our memories but also facilitate shared experiences and bonding with loved ones.
The Technological Advancements in Photo Printing:
Despite the rise of digital photography, technological advancements have not left photo printing behind. With innovations like high-quality photo paper, advanced printing techniques, and personalized photo products, photo printing has evolved to meet the needs of the digital age. Now, we can turn our digital photos into stunning prints, canvases, photo books, and even home décor items, enhancing the importance of photo printing in our lives.
The Popularity of Photo Print Services:
The resurgence in the popularity of photo printing can also be attributed to the rise of online photo print services. These platforms have made it easy to upload digital photos, choose from a variety of printing options, and get high-quality prints delivered right to our doorsteps. They've brought back the joy of having physical memories while catering to the convenience of the digital world.
The Future of Photo Printing:
Despite living in a digital world, the practice of photo printing is far from becoming obsolete. If anything, it's gaining more significance as people seek tangible ways to preserve their memories amidst the digital overwhelm. As technology continues to advance, we can expect photo printing to evolve and adapt, offering even more personalized and creative ways to keep our memories alive.
Conclusion:
Photo printing, in essence, is about preserving memories in a form that's tangible, emotional, and nostalgic. It's about keeping our past alive, sharing our stories with loved ones, and creating a legacy for future generations. Even in our digital age, the importance of photo printing remains undiminished. After all, there's something uniquely special about holding a memory in your hands.